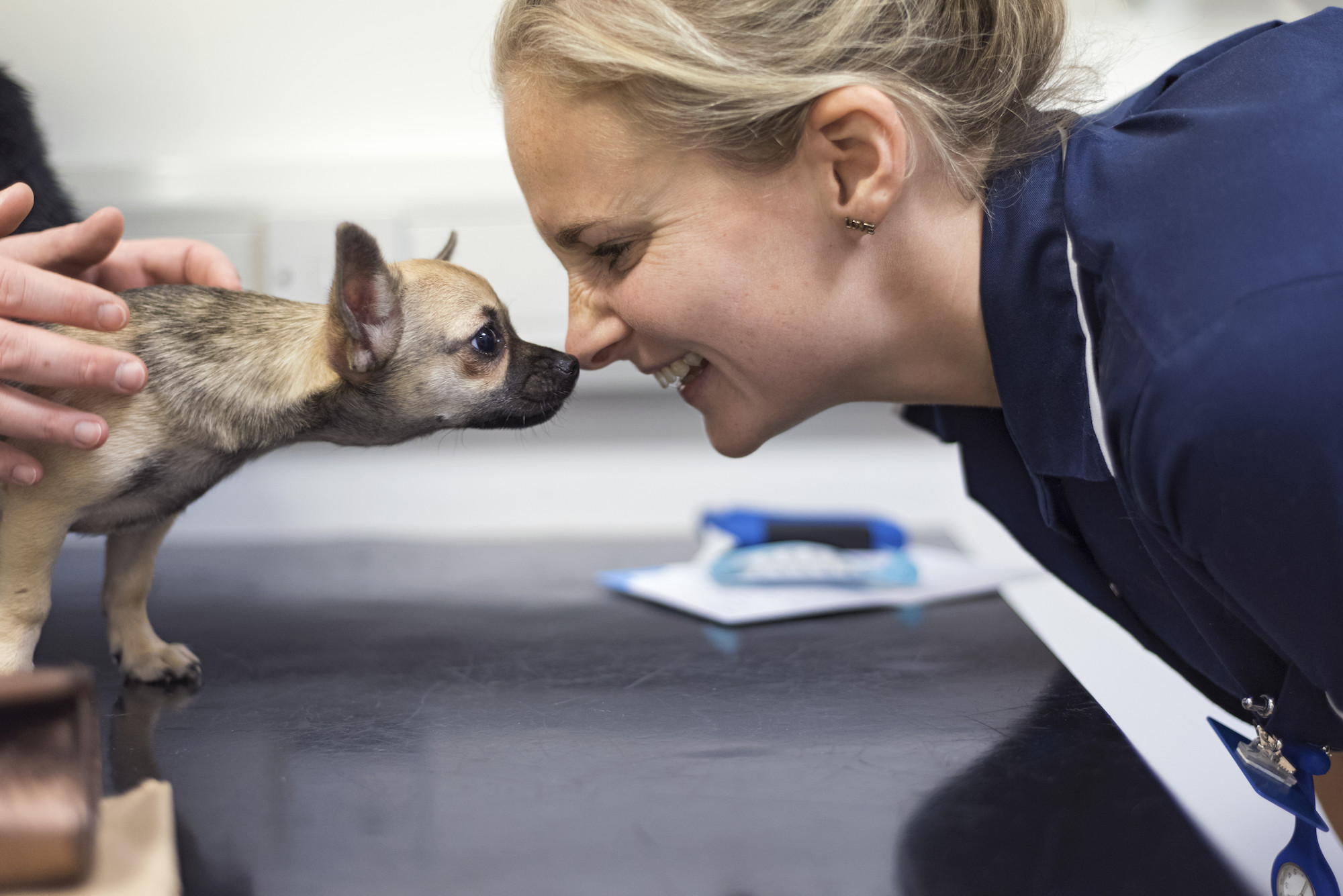 Pet loss courses for pet professionals
Due to the cost of living, we have frozen the prices of our training courses in 2023.
We help veterinary professionals and pet service providers with the skills to support grieving pet owners.
We've developed our accredited and award-winning Continual Professional Development (CPD) training courses, workshop days and webinars to help you and your team learn techniques to confidently support those that have lost a pet.
Training available
Our training can improve client experience and retention while supporting your team's emotional wellbeing and avoiding compassion fatigue. For veterinary professionals, it's an RCVS Practice Standards Scheme optional award requirement, which contributes to the Client Service Award.
Unlike other providers, money raised from our courses goes directly back into our charity. This means you can help us care for more sick, injured and homeless pets while developing your pet bereavement support skills.
Pet loss training day for veterinary professionals, South or North – 2024
This in-person training day will provide you with a compassionate approach to supporting your clients through pet bereavement and end of life. The session will provide you with:
a greater understanding of your clients' emotional journey
the tools you need to support your clients during a highly emotive and challenging time
ideas on how you can effectively help your clients cope with the death or foreseen loss of their pet
a networking opportunity within your profession and a chance share common experiences
Cost: £99
South
When: 26 October 2023, 09.30am – 4.00pm
Where: Pynes Hill Business Centre, Pynes Hill, Exeter EX2 5JL
North
When: 21 February 2024, 09.30am – 4.00pm
Where: Blue Cross rehoming, advice and behaviour unit, Manchester, 48 Blackburn Street, Radcliffe, M26 1NQ
Virtual live, equine bereavement support training workshop
This engaging and essential CPD training workshop will provide you with an updated view on horse loss and grief in these current times. We will equip you and your teams with the support tools needed to feel confident in providing the best possible service. The course will cover a wealth of topics such as, quality of life, euthanasia and self- care.
Course length: Five hours
Cost: £99
When: 5 October 2023, 9.00am – 4.00pm
Human animal link course: supporting people and animals within the community
Enhance the support and compassion you give to pet owners by gaining an accredited certificate in our new for 2023 human animal link: supporting people and animals within the community. You can choose to study all four modules together or select those which you feel are most useful and relevant to you. Modules include:
pet loss
supporting individuals in the workplace with issues impacting their welfare
building positive relationships, conflict resolution and safeguarding
compassion fatigue, burn-out, trauma and resilience
The full course requires approximately 18 hours of study and counts towards continual professional development (CPD).
Course length:Eight weeks
Cost:£60 - £280
When:
29 January 2024
3 June 2024
7 October 2024
Accredited pet bereavement support CPD course
Our award-winning e-learning course is perfect for anyone wishing to enhance the care they can offer to bereaved pet owners. It's helpful for any professionals working with owners whose pets are facing rehoming, euthanasia or have died. It covers the following:
pet loss experience
self care
emotional support skills
stages of grief
pet euthanasia
remembrance and rituals
grief in surviving pets
the loss of assistance animals
This course requires a minimum of three hours study per week and counts towards 30 hours Continual Professional Development.
Please be aware that this is not a counselling qualification.
Course length: 10 weeks
Cost: £280
When:
Sign up for the 10 week course 2023
8 January 2024
8 April 2024
1 July 2024
23 Sept 2024
The course was brilliant and I was able to fit it in between working and looking after children.
Anne, Practice Manager
Refresher pet bereavement support CPD course
This refresher course provides you with four CPD hours and is designed for those who have already completed our accredited pet bereavement support course above.
It has been developed in line with the RCVS changes to CPD requirements that require CPD hours (35 for vets and 15 for vet nurses) to be annual, rather than spread across three years. This change is to ensure quality training remains 'regular' and 'relevant' at all times as per the RCVS standards charter.
This course can be booked at any time throughout the year to suit you. You will be asked to provide your NCFE certificate details prior to starting.
Course length: Four hours
Cost: £50
Introduction to pet bereavement support skills
This short course is an excellent introduction for front of house employees who have contact with bereaved owners but do not require an in depth knowledge.
The two hour course covers the following key areas:
empathy vs sympathy
communicating with active listening skills
open questions
face-to-face emotional support, telephone support, email support and other written communication
how to support yourself, importance of self care and useful contacts
This course can be booked at any time throughout the year.
Course length: Two hours
Cost: £35
Sign up for the two hour course
Bespoke training
Alternatively, we offer bespoke pet bereavement support training specifically tailored to your business or organisation. This can be delivered at your place of work or through webinars.
For more information about these custom services, or to discuss your requirements, please call us on 01993 867216 or drop us an email at [email protected].
Live workshops
You are invited to join us for our virtual or face to face pet bereavement support training workshop.
This engaging five hour CPD training workshop, running on a number of dates, will equip you and your team with the tools to provide the best possible pet bereavement support. Covering a wealth of topics including:
quality of life
euthanasia
self care
The day will also provide an excellent networking and knowledge sharing opportunity through a Q&A session and case study discussion.
Course length: Five hours
Cost: £99
Workshop dates
Sign up for the live workshop 2023
25 January 2024
25 April 2024
25 July 2024
24 October 2024
— Page last updated 16/10/2023