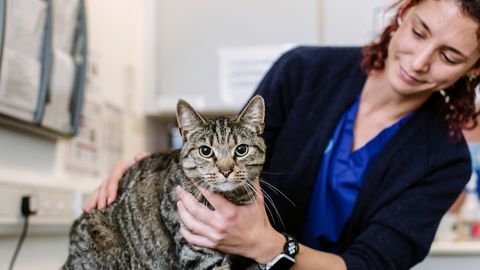 Veterinary
Our animal hospitals and pet care clinics provide veterinary treatment to sick and injured pets when their owners can't afford private veterinary fees.
What to do if your pet needs urgent treatment
Contact the nearest vet practice to your home if your pet needs urgent treatment. If your nearest vet practice is one of our hospitals, please contact the animal hospital or pet care clinic.
Our team is currently receiving a lot of calls so please bear with us if you cannot get through and try again. We will answer your call as soon as possible.
Am I eligible?
Our vet care is available to pets whose owners receive certain means-tested benefits and live within the catchment area of one of our animal hospitals or pet care clinics.
Check whether you're in one of our catchment areas using the postcode checker below.
If you are, visit the animal hospital webpage or pet care clinic webpage to find out what means-tested benefits you need to receive to access our vet care and any costs.
If you don't live in the catchment area for one of our animal hospitals or pet care clinics, we may be able to help with veterinary costs if you are struggling through our Veterinary Care Fund.
If you are already registered at one of our animal hospitals, find out more about recent vet care changes.
Registration
If you're eligible for our vet care, you can register at one of our hospitals or clinics below.
Eligible for one of our London or Grimsby animal hospitals?
Register at an animal hospital
Eligible for our Derby or York pet care clinics?
Register at a Blue Cross pet care clinic
Order repeat prescriptions online
You can now order a prescription online and collect it from our animal hospital.
Prescriptions are only available for medication that has already been prescribed and dispensed recently by a Blue Cross vet.