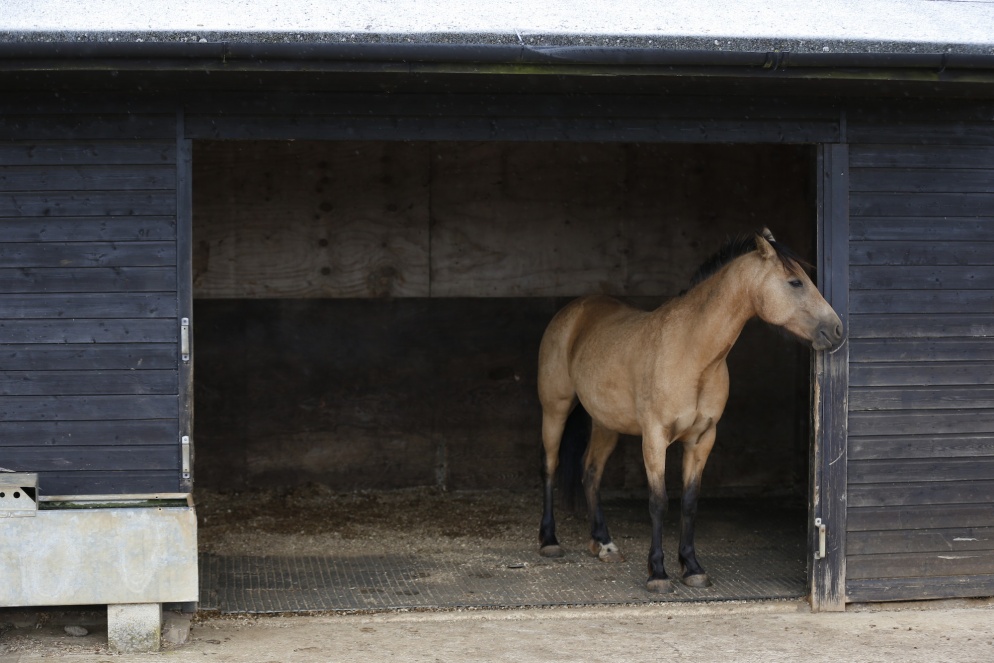 Giving a horse a home
We rehome our horses on a monitored loan. Read below how this benefits both the horse and you.
Rehoming a horse
If you and your family have decided you'd like to give a home to a horse or pony from Blue Cross, please have a look on our rehoming pages to see horses currently available for loan or potentially to own.
We have a range of horses for available for rehoming; from miniature Shetlands to cobs to thoroughbreds. We have companions and ridden horses and ponies, both backed and unbacked, and a range of ages from foals to veteran.
Blue Cross rehomes our horses on a monitored loan, which means we check in to see how they're doing from time to time so we can make sure that they – and you – are happy.
We can now transfer the ownership of Blue Cross horses and ponies after a successful loan period. This enables us to take in even more homeless horses that need our help.
We are also always in need of support yards, preferably located within an hour's drive of our centres, where our horses are provided with temporary care and support on a private yard until a suitable permanent home is found. If you are interested in becoming a support yard rather than loaning a horse, please visit our volunteering pages for further details.
Can't find the right horse for you?
If you've had a look at our horses currently available for loan and can't find the right one for you, please call our Horse Rehoming Centre on 0300 777 1520 for a chat, or complete our online form to register your details and interest.
Benefits of rehoming a horse from Blue Cross
There are a number of benefits of becoming a borrower and rehoming a horse or pony from Blue Cross:
The horse will be individually matched to you
We'll give you an honest history of the horse
Each horse has had a comprehensive health and training assessment
We offer support and advice if you have any issues with your horse
After a successful loan period, ownership of the horse can be transferred to the borrower
If your circumstances change, we will help you find a new home for your horse, even if you have taken ownership
It's value for money; our rehoming fee is much cheaper than buying a horse or pony
There are fewer risks than buying privately
You are giving a second chance to a horse looking for a new start in life
You're supporting a charity and enabling us to help more horses in need
You will become part of a large group of Blue Cross borrowers who support each other
Rehoming costs (inclusive of VAT)
Ridden - £600
Project or lead rein - £300
Companion - £150
Hacking horse or pony - £500 
If you are taking on a second horse at the same time, you may receive a £50 discount on the rehoming fee of the second horse.
Do I own the horse?
Blue Cross owns the majority of our horses and most are rehomed on a loan agreement initially. Our horse welfare coordinators will visit you every so often to give advice and support where needed. The number of visits will depend on you and your horse's needs.
We can transfer ownership of horses that have been in their loan homes for a successful loan period.
What happens if my situation changes and I can no longer keep my horse?
Should this happen, if you have loaned the horse from us we would find them a new home. They would either come back to one of our centres or we would ask you to keep them in the short term while we found a new family for them to go to directly.
We ask you to give us three months' notice if you want to return a horse to us, so we can ensure we have the space available at our centre or to give us time to find them a new home. If we have transferred ownership of a horse we will still do all that we can to assist the rehoming of that horse should we be asked to.
Frequently asked questions
Find out everything you need to know about rehoming a horse from Blue Cross.
Find out more
Frequently asked questions
Find out everything you need to know about rehoming a horse from Blue Cross.
— Page last updated 27/03/2023