We've achieved a major milestone in realising our vision, as our builders have recently broken ground onsite.
An incredible £2.5million has now been raised towards refurbishment thanks to the overwhelming and generous support of animal lovers but like many charities, Blue Cross is experiencing a significant decrease in donations due to the coronavirus crisis.
At present, the charity is forecasting a reduction by as much as 25% this year so is asking pet lovers to be a part of the landmark project and help it reach the final £500,000 needed to meet the cost of the rebuild.
Total raised includes estimated value of pending legacy donations
£2,906,590.00 Last updated
Here's how we are redeveloping parts of the centre so we can give the very best care to pets in urgent need. But we can only do it with your ongoing support.
Spacious new kennels will allow team members to spend more time with nervous dogs, helping them to learn all about the world. The new outdoor runs will mean dogs can enjoy being outside and have more time playing and being trained.
The enclosed grass areas mean that we can focus on safely socialising dogs who might need a bit more confidence and that all dogs can have more fun and time in the great outdoors.
New cat pens will give nervous cats a safe, private place to adjust and team members space to sit with them and help them gain confidence. Outdoor access is so important for keeping curious cats happy and healthy.
A new cat isolation unit crucial for stopping the spread of illnesses and allowing us to operate at full capacity.
A new kitten unit means pregnant cats and new mums will be able to nurse their young in peace and quiet, away from the hustle and bustle of the rest of the centre.
Reception with increased space for our Home Direct scheme. This important service rehomes cats and dogs without them having to come into the centre, freeing up valuable kennel and cattery space for pets in the most urgent need.
Help rebuild the lives of pets like Dora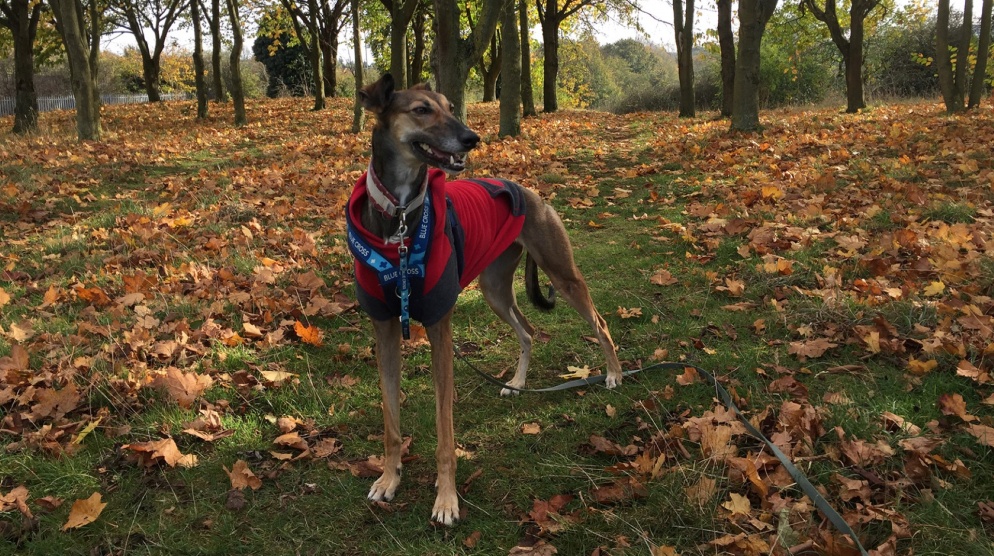 The refurbishment will help dogs like Dora who was cared for by the Hertfordshire rehoming centre for almost a year.
The two year old lurcher was found as a stray and was terrified of people. She would cower in the corner of her kennel or panic and try and look for an escape if anyone approached her.
It took months of expert care and slow and patient training from the team at the centre to help her understand that humans were not to be feared.
Nobody knows what made her so scared, but her incredibly timid behaviour indicated that her past was likely to have been filled with sadness and neglect.
After 294 days of rehabilitation, she went to live in nearby Stevenage with new owners Alison and Peter, and Luca, a seven-year-old greyhound who the couple had rescued many years before. She has made huge progress, making lots of new friends and enjoying trips to the beach, and her loving, affectionate personality is shining through.
The new kennels will support nervous dogs like Dora by giving them an environment where - with help of the team at the centre - they have the very best chance of showing their true characters and improving the chances of finding a new home. Team members will be able to spend more time with the dogs, helping them to learn all about the world. The outdoor runs will mean dogs can feel the sun on their fur and have more time playing and being trained.
"To make sure we can do the very best for all the pets that come through our doors, we absolutely have to improve the Blue Cross Hertfordshire centre at Kimpton.  Blue Cross has been helping pets here since 1949. Our current facilities are extremely outdated and in desperate need of improvement to ensure we can provide the care and the rehoming service the pets, and their owners, need. The planned developments will make sure we can look after them in the best way possible.
- Kellie Brooks, Manager of Blue Cross Hertfordshire centre 
About Blue Cross
Blue Cross is a registered charity in England and Wales (224392) and in Scotland (SC040154) that has been helping sick, injured, abandoned and homeless pets since 1897. Pets help us in so many ways and they depend entirely on us. That's why at Blue Cross we believe in helping pets because pets help us.
How we help
Rehoming
We find homes for unwanted cats, dogs, small pets and horses across the UK.
We helped over 9,253 pets last year.
---
Veterinary
Our animal hospitals and pet care clinic treat sick and injured pets when their owners can't afford private veterinary fees.
We treated 31,321 poorly pets last year.
---
Pet Bereavement Support
We offer a listening ear and give time, patience and encouragement to bereaved pet owners.
We helped 12,966 grieving people last year.
Help us rebuild their tomorrow…
Please donate to the Hertfordshire Rehoming Centre Appeal
— Page last updated 03/06/2021