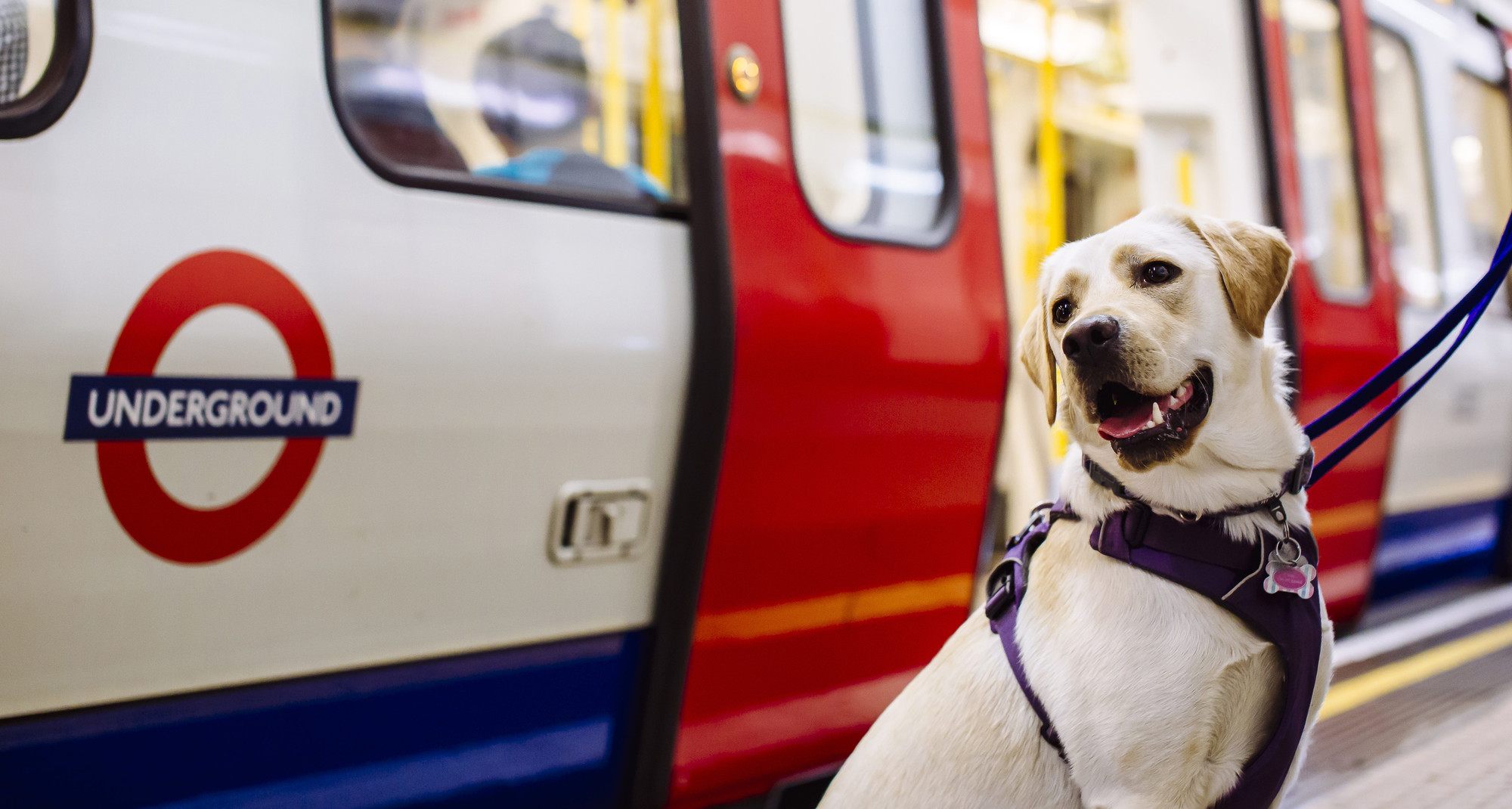 Dogs on the Tube
Travel easily with your dog on the London Underground. Always check before you travel.
London's transport system can seem complex for us humans, so making a journey with your dog can require some forward planning. Luckily, TfL is dog-friendly and our four-legged friends are allowed on all London buses, trains, tubes and trams for free.
If you've arrived at a tube station only to realise that there are no stairs or lift, you may wonder how to get your very heavy dog to the platform. Here's our guide to dog-friendly stations.
Can dogs go on escalators?
Dogs, unless trained as an assistance dog, are not allowed on the escalator themselves; this can cause serious harm as they can get their fur, nails or skin caught in the moving staircases.
What are TfL's rules for dogs on transportation?
Your dog can travel for free on the London Underground and London Overground as long as they are kept on a lead or in a crate/carrier. Station staff can refuse you entry if your dog is misbehaving.
How do I plan ahead?
By planning ahead, you'll find that your journey runs more smoothly. You can plan your journey from A to B using TfL's journey planner and our handy guide (below) will help you to plan your dog-friendly travel using the lifts and stairs at the station. 
If, after planning your journey, you do find yourself at an escalator-only station, then you must either carry your dog up or down the escalator, or you can request that a member of staff stops the escalator for you outside of rush hours and when the station is not busy. However, this may not always be possible as some central London stations experience higher levels of congestion than others.
How can I safely pick up my dog on the escalator?
Many people make the mistake of picking up their dog without any warning. This can scare your dog and may cause them to try to wriggle out of your hold.
You can give them a heads up by crouching down in front of them and letting them sniff the back of your hand. Then begin stroking them on their front and hind legs and chest in slow, soothing motions.
If your dog is a weight that you are comfortable handling, then the best way to pick your dog up is to place one arm in front of their front legs and the other arm should be placed around their back legs, under their bum. This technique is the most comfortable way of handling a dog for the both of you.
You can train your dog to be picked up and to expect to be picked up by using a pairing word such as 'up' or 'lift'. This is particularly useful if you have a small dog and are able to train them from a young age.
If they are too heavy for you to pick up, please look for alternative transport routes with stairs or a lift using our handy guide below.
Stations with step access
Central line
West Ruislip, Ruislip Gardens, South Ruislip, Northolt, Perivale, Hanger Lane, Ealing Broadway, West Acton, North Acton, East Acton, White City, Shepherd's Bush, Holland Park, Queensway, Lancaster Gate, Marble Arch, St Paul's, Liverpool Street, Bethnal Green, Mile End, Leyton, Leytonstone, Wanstead, Redbridge, Barkingside, Fairlop, Grange Hill, Chigwell, Snaresbrook, South Woodford, Loughton, Debden and Theydon Bois
Circle line
Edgware Road, Bayswater, High Street Kensington, Gloucester Road, South Kensington, Sloane Square, St James's Park, Embankment, Temple, Mansion House, Cannon Street, Monument, Aldgate, Liverpool Street, Moorgate, Barbican, Euston Square, Great Portland Street, Baker Street, Royal Oak, Westbourne Park, Ladbroke Grove, Latimer Road, Shepherd's Bush Market and Goldhawk Road
District line
Ealing Broadway, Ealing Common, Chiswick Park, Turnham Green, Stamford Brook, Ravenscourt Park, Barons Court, West Kensington, Parsons Green, Putney Bridge, East Putney, Wimbledon Park, High Street Kensington, Bayswater, Edgware Road, Gloucester Road, South Kensington, Sloane Square, St James's Park, Embankment, Temple, Mansion House, Cannon Street, Monument, Aldgate East, Whitechapel, Stepney Green, Mile End, Bow Road, Plaistow, Upton Park, Becontree, Dagenham East, Hornchurch and Upminster Bridge
Elizabeth line
Step access available
Hammersmith & City line
Goldhawk Road, Shepherd's Bush Market, Latimer Road, Ladbroke Grove, Westbourne Park, Royal Oak, Edgware Road, Baker Street, Great Portland Street, Euston Square, Barbican, Moorgate, Liverpool Street, Aldgate East, Whitechapel, Stepney Green, Mile End, Bow Road, Plaistow and Upton Park
Jubilee line
Canons Park, Queensbury, Neasden, Dollis Hill, Willesden Green, West Hampstead, Finchley Road, Swiss Cottage, St John's Wood and Baker Street
Metropolitan line
Amersham, Rickmansworth, Watford, Croxley, Moor Park, Northwood, Northwood Hills, North Harrow, Ickenham, Ruislip, Ruislip Manor, Eastcote, Rayners Lane, West Harrow, Harrow-on-the-Hill, Northwick Park, Preston Road, Finchley Road, Baker Street, Great Portland Street, Euston Square, Barbican, Moorgate, Liverpool Street and Aldgate
Northern line
Burnt Oak, Colindale, Brent Cross, Hampstead, Belsize Park, Chalk Farm, Totteridge & Whetstone, Mill Hill East, East Finchley, Highgate, Archway, Tufnell Park, Kentish Town, Camden Town, Mornington Crescent, Warren Street, Goodge Street, Embankment, Old Street, Moorgate, Borough, Elephant & Castle, Kennington, Oval, Clapham North, Clapham Common, Balham, Tooting Bec and Colliers Wood
Piccadilly line
Cockfosters, Southgate, Arnos Grove, Bounds Green, Arsenal, Holloway Road, Russell Square, Covent Garden, Hyde Park Corner, Knightsbridge, South Kensington, Gloucester Road, Barons Court, Turnham Green, South Ealing, Northfields, Boston Manor, Osterley, Hounslow Central, Hatton Cross, Ealing Common, North Ealing, Park Royal, Alperton, Sudbury Hill, South Harrow, Rayners Lane, Eastcote, Ruislip Manor, Ruislip and Ickenham
Victoria line
Pimlico, Warren Street, Euston, Highbury & Islington, Seven Sisters and Blackhorse Road
Waterloo and City line
Step access available
DLR and London trams
All accessible via lifts
London Overground
All London Overground is accessible via step access
TFL Rail
All TfL rail is accessible via step access
What if my dog has a mobility problem and can't climb stairs?
If your dog has a disability or is older which means that they struggle with stairs and large gaps on the tube then we have a list of stations with lifts below.
Bakerloo line
Willesden Junction, Wembley Central & Harrow and Wealdstone
Central line
Greenford, Bond Street, Tottenham Court Road, Stratford, Woodford, Hainault, Roding Valley, Newbury Park Buckhurst Hill and Epping
Circle line
Westminster, Blackfriars, Tower Hill, Farringdon, King's Cross St. Pancras, Paddington, Wood Lane and Hammersmith
District line
Westminster, Blackfriars, Tower Hill, West Ham, East Ham, Barking, Upney, Dagenham Heathway, Elm Park, Upminster, Earl's Court, Hammersmith, Acton Town, Kew Gardens, Richmond, Fulham Broadway, Southfields, Bromley-by-Bow and Wimbledon
District Line (open weekends and public holidays): Kensington (Olympia) and Earl's Court
Elizabeth line
Mostly step-free. Step-free access throughout by summer 2022.
Hammersmith & City line
Hammersmith, Bromley-by-Bow, Wood Lane, Paddington, King's Cross St. Pancras, Farringdon, West Ham, East Ham and Barking
Jubilee line
Stanmore, Kingsbury, Wembley Park, Kilburn, Bond Street, Green Park, Westminster, Waterloo, Southwark, London Bridge, Bermondsey, Canada Water, Canary Wharf, North Greenwich, Canning Town, West Ham and Stratford
Metropolitan line
Chesham, Chalfont & Latimer, Chorleywood, Pinner, Uxbridge, Hillingdon, Wembley Park, King's Cross St Pancras and Farringdon
Northern line
Edgware, Hendon Central, Golders Green, High Barnet, Woodside Park, West Finchley, Finchley Central, Tottenham Court Road, King's Cross St Pancras, London Bridge and Morden
Piccadilly line
Oakwood, Finsbury Park, Caledonian Road, King's Cross St Pancras, Green Park, Earl's Court, Hammersmith, Acton Town, Hounslow East, Hounslow West, Heathrow Terminal 2 & 3, Heathrow Terminal 4, Heathrow Terminal 5, Uxbridge, Hillingdon and Sudbury Town
Victoria line
Tottenham Hale, Finsbury Park, King's Cross St Pancras, Green Park, Victoria, Vauxhall and Brixton
Waterloo and City line
No step-free access
DLR and London trams
Step-free access throughout
London Overground
Watford Junction, Carpenders Park, Harrow & Wealdstone, Wembley Central, Willesden Junction, Euston, Kensal Rise, Hampstead Heath, Gospel Oak, Camden Road, Caledonian Road & Barnsbury, Highbury & Islington, Canonbury, Hackney Central, Homerton, Hackney Wick, Stratford, Upper Holloway, Harringay Green Lanes, South Tottenham, Blackhorse Road, Walthamstow Queen's Road,  Walthamstow Central, Barking, Edmonton Green, Bush Hill Park, Enfield Town, Cheshunt, Highams Park, Chingford, Liverpool Street, Dalston Junction, Haggerston, Hoxton, Shoreditch High Street, Canada Water, New Cross, New Cross Gate, Brockley, Honor Oak Park, Forest Hill, Sydenham, Crystal Palace, Anerley, West Croydon, Queens Road Peckham, Denmark Hill, Clapham Junction, Imperial Wharf, West Brompton, Kensington (Olympia), Shepherd's Bush, Richmond, Kew Gardens, South Acton, Acton Central, Willesden Junction, Romford and Emerson Park
TFL Rail
Liverpool Street, Stratford, Chadwell Heath, Romford, Brentwood, Paddington and Shenfield
Keep in mind that step-free access may not be available due to maintenance or repair works so check your journey beforehand.
Travelling with your dog by car
How can I make the journey easier for my dog?
The tube can seem overwhelming for us as humans, so imagine how this can feel to a dog; lots of new smells, heat and crowded spaces. However, if you carefully train your dog you can help to make their journey as stress free as possible.
Training on tubes:
To begin with, introduce your dog to the Underground in short bursts
Start by taking them into the ticket hall and letting them get used to the crowds by positively rewarding them when they sit or look at ease. For some dogs you may need to get them to concentrate on you so that they learn to pay attention to you in a busy environment.
Once they're happy in the ticket hall, start to introduce them to the ticket barriers by walking through using treats or strokes to make them feel more relaxed 
Then you're ready to start the same process on the lifts; slowly introducing them and positively rewarding them for calm behaviour
If you're feeling that he/she is now confident in the hustle and bustle of the ticket hall you can take your first journey on London Underground. Start by taking the tube to the next station and closely monitoring how your dog reacts.
Tips:
Pairing new experiences with something nice is always a great way to encourage calm behaviour
If you are able to, try to get a seat with space so that your dog can sit/lie on the floor beside you
Some dogs will be more anxious than others so, if you think that your dog is stressed on the Underground, try to limit your time spent on the tube to as little as possible. Sometimes it's worth looking at a map of London to see how far your destination is, as the distance may be shorter than you think and easier to walk.
Dogs and passengers
It's important to remember that while lots of people share our love of dogs, there are many who are scared or dislike them. 
What can I do if someone is scared of my dog?
If you notice that someone is scared of dogs, an acknowledgement that you've noticed and are doing something about it can go a long way. For example, making an obvious attempt to show your dog is calm, well behaved and not going to approach them.
Depending on how busy the service is, it's helpful to place yourself between your dog and the person who is worried, as a clear visible gesture that you respect their boundaries.
Over-friendly passengers
Some people will be thrilled to see a dog on the Underground and will usually approach full of energy and smiles for you and your dog. 
While unintentional, this usually leads to them approaching your dog in a way that your dog may find overwhelming. This can include strangers coming into your dog's personal space, usually crouching down into their face.
In an already busy, stressful situation this can be a lot for your dog to have to deal with. In these scenarios, it's best to ask someone to approach your dog slowly and calmly and only if you know that your dog is comfortable with being stroked. 
Remember, that you are making the decision that is best for your dog, so don't feel under pressure to allow someone to stroke them just because they want to. 
Children and dogs
While your dog may be used to being around children, it is best to ask that they don't stroke your dog on the Underground. This avoids children stroking your dog too hard or pulling/grabbing your dog in a way that could cause pain.
If you are happy that your dog is confident with children and content if a little one greets them, then ask them to approach your dog slowly and calmly, encouraging soft strokes and giving your dog the space to move away if they want to. Carefully monitor the interaction between the two of them and keep the encounter short and sweet.
Signs that your dog is unhappy on the tube
If your dog displays any of the following behaviours, you should closely monitor them and make a decision on whether or not to remove them from the situation if the behaviour persists or increases: 
Panting excessively
Pacing
Tail tucked between legs
Vocalisation
Lip licking
Excessive yawning
Ears back 
Whites of the eyes show excessively 
Paw raise
Chewing the lead, which can be a stress reliever
Displacement behaviour/distracting themselves using normal behaviours that they wouldn't usually display in that particular situation. This can be things like excessive sniffing or scratching themselves.
Safety measures
Use the accessibility and mobility access gate when entering the station with your pet – this gives you more time and space to get through the ticket barriers
Stay behind the yellow line on the platform 
You must always ensure that you carry water for your dog on the tube
Keep your dog on its lead at all times
Even if your four-legged friend enjoys being around other dogs, it may be best to keep them separate if you see another dog on your journey. Stress and anxiety can cause your dog to react differently in certain situations.
Ask people not to stroke your dog unless you know they are comfortable with this
If your dog does have a fear of unfamiliar people then you should avoid the tube
Avoid rush hour
If the tube is too full, wait for the next one. Don't try to squeeze on with your dog. They may get their paws stepped on!
Travel in the heat
Dogs can quickly become overheated and this can be exacerbated by stress and anxiety, so please monitor them carefully. The Underground can be warm on a normal day but during hot spells, it can reach over 30°C.
More information on travelling with your dog in the heat.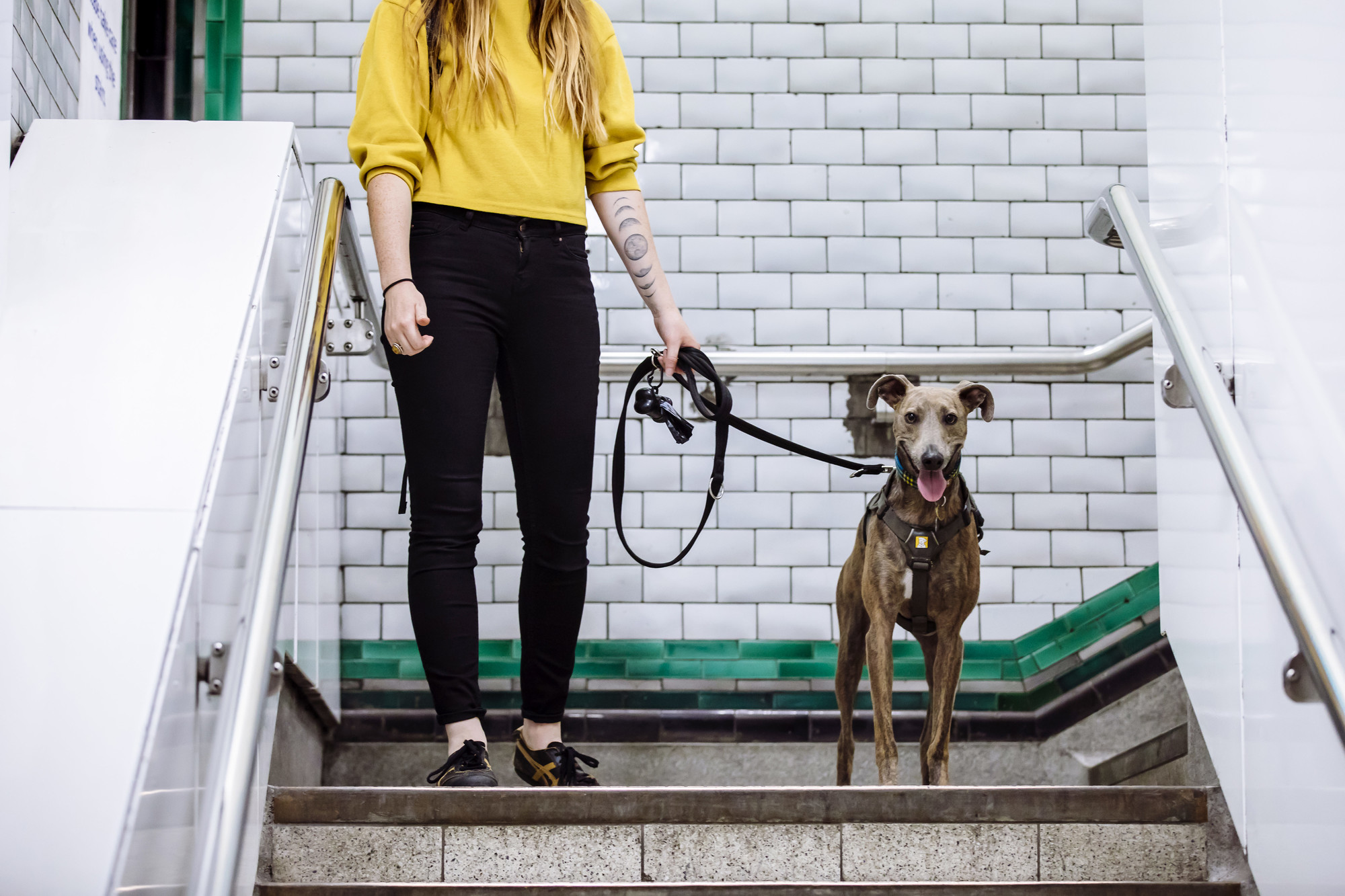 — Page last updated 22/05/2023