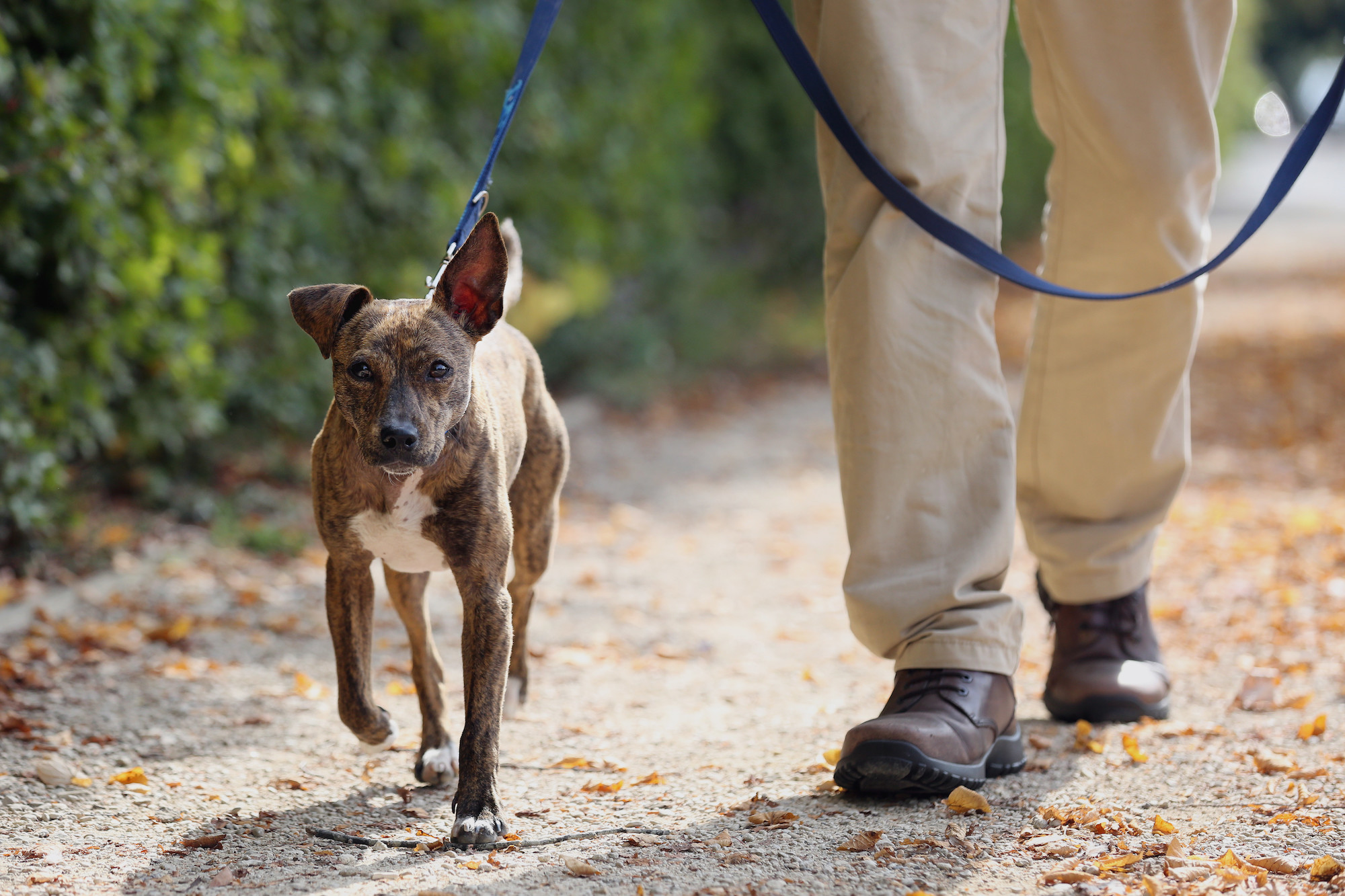 Top dog-friendly walking routes in the UK
Our four-legged friends like nothing more than walkies, and what better way is there to keep fit yourself? We've teamed up with National Trust to bring you some of the top destinations for dog walks in the UK - from cliff top trails to ancient woodland rambles - so you can start the new year by exploring fun new places together.
Ashridge Estate, Hertfordshire
Let your dog run free through the ancient trees, rolling chalk downlands and lush meadows dominating this estate. It is not only rich in wildlife, but history too – from Iron Age farms and Roman settlements to Capability Brown and royalty. The ancient monuments that represent Ashridge's colourful past can still be seen here, including the Bridgewater Monument, which was built in 1832 in memory of the third Duke of Bridgewater who once lived in Ashridge House. Meanwhile, you can take a well earned rest with your canine pal atop Ivinghoe Beacon, from which you can spot Bronze Age burial mounds, prehistoric earthwork and the rutted 'cattle drovers' reflecting centuries of farming heritage.
Click here for the suggested walking route.
Clent Hills, Worcestershire
A haven of peace and tranquillity in the heart of the busy midlands, the Clent Hills have been popular with day trippers for more than 200 years. There's a special circular dog walking trail here where four-legged friends can run around off the lead - it passes through fields and woodland, and offers some fantastic panoramic views. On a clear day, the Welsh Black Mountains can even be seen on the horizon from the highest points.
Click here for the suggested walking route.
Attingham Park, Shropshire 
Join the thousands of dog walkers each year who enjoy a relaxing stroll with their canine companions through this beautiful estate surrounding an 18th-century mansion, shaped by a story of love and neglect. Built for the first Lord Berwick in 1785, there are some 370 acres of glorious woodland to explore as well as five miles of river, featuring stretches of the Severn and Tern, should your four-legged friend fancy a paddle. There's also plenty of wildlife to spot, including about 200 fallow deer.
Click here for the suggested walking route.
Chapel Cliff, Cornwall
You and your dog will love this scenic walk on the edge of the bustling, ancient fishing village of Polperro. This one mile route takes in plenty of spots where you can take a break and admire the stunning views along the coast to Devon.
Click here for the suggested walking route.
Hardcastle Crags, West Yorkshire
Explore tumbling steams flanked by mossy rocks in the woodlands within this stunning valley with the 19th century Gibson Mill - now home to a cafe and shop - at its heart. Stop off at weirs where your dog can dip their paws in the fresh water, or wear them out with a hike to the hilltops for panoramic views of the woodlands below.
Click here for the suggested walking route.
Killerton, Devon
Enjoy a game of fetch with your dog in the wide open spaces on this circular walk through the rolling Devonshire countryside, boasting far reaching views, orchards and gardens. There's a glorious landscape garden beside a fine 18th century house surrounded by parkland with rare and giant trees.
Click here for the suggested walking route.
Down Banks, Staffordshire
This little wilderness of woodlands and heath in the heart of the Midlands is perfect for walkies. Find a secret valley and beautiful views on this easy route alongside the stream, or if you and your dog are both feeling energetic, add a climb uphill for fantastic panoramic views.
Click here for the suggested walking route.
Studland Beach, Dorset
Watch your four-legged friend paddle in the sea and run along the sand with the wind in their ears at Studland Beach. This glorious slice of Dorset coastline features a four mile stretch of golden, sandy beach with gently shelving waters and views across to the Isle of Wight. The heathland behind is a haven for native wildlife and feature all six British reptiles. There are walking trails through the sand dunes and woodlands where you can spot deer, insets, birds and a wealth of wild flowers while your canine companion takes in all the new sights and smells. Dogs are welcome here all year round, but must be kept on the lead in the peak season, between 1 May and 30 September.
Click here for more information.
Plymbridge Woods, Plymouth
This brisk circular walk through the oak woodlands beside the River Plym is perfect for all types and sizes of dogs. Views from the red trail are breathtaking across the valley and it's varied enough to keep even the liveliest of canines entertained. Along the way you may see kingfishers, sea trout, dippers, peregrine falcons, deer and other wildlife.
Click here for the suggested walking route.
Craster to Low Newton, Northumberland
Explore a fishing village, ancient ruins and a sweeping sandy beach on this walk with your dog. Starting at Craster, it passes the mighty remains of Dunstanburgh Castle before going onto Embleton Sands and then Low Newton by the sea. There are magnificent views all year round, but spring is the best time to visit as the dune flowers are in bloom and the seabirds are breeding.
Click here for the suggested walking route.
— Page last updated 07/02/2020