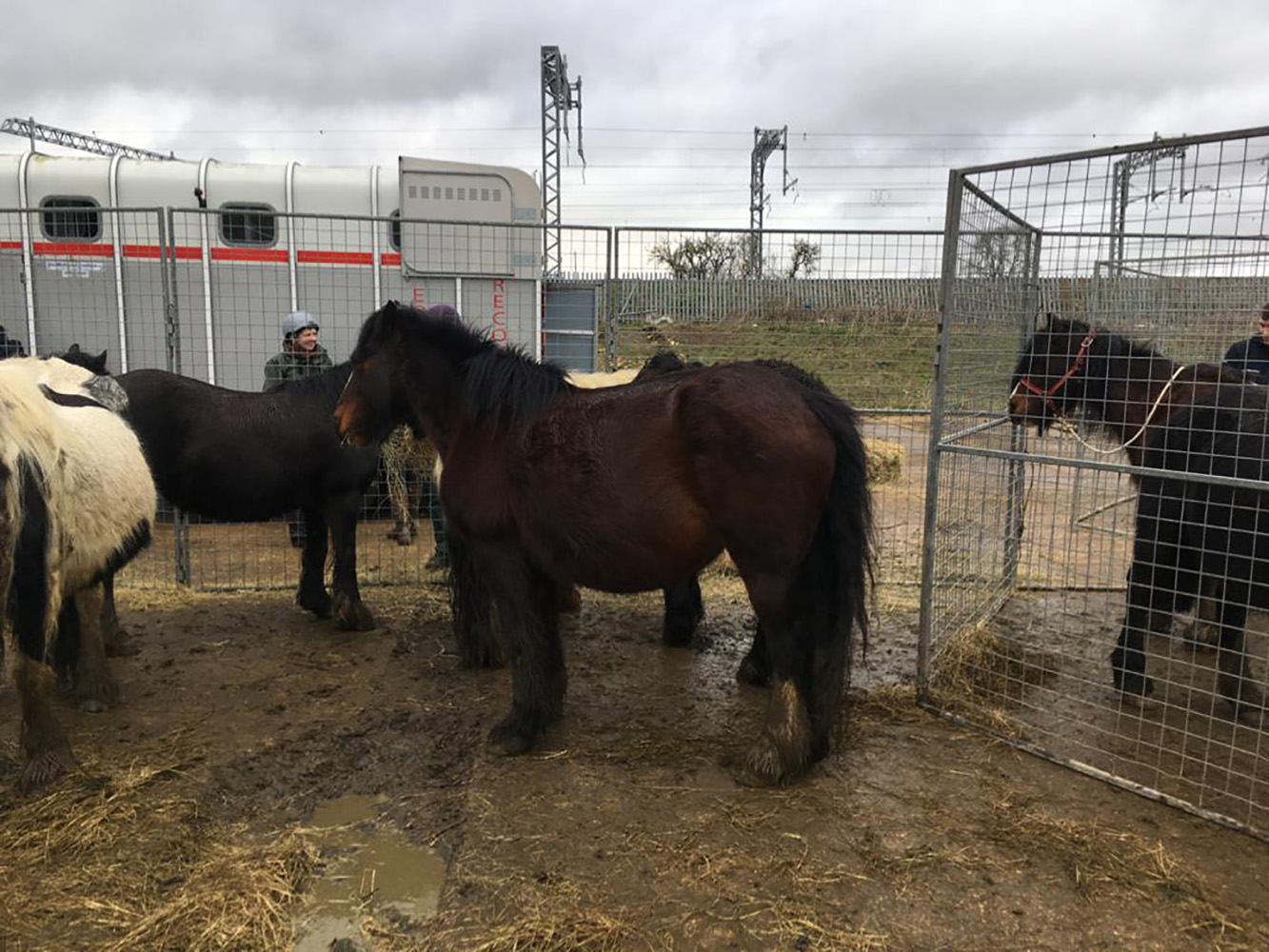 Blue Cross helps rescue horses from flooded field
A large group of horses battling to survive in a field flooded by recent storms have been saved, with help from Blue Cross.
The RSPCA – responding to concerns for the animals' welfare – led the rescue effort in Wellingborough, Northamptonshire, earlier this week, with help from charities across the country.
Blue Cross will now take in 11 of the 43 horses – one colt and 10 mares and fillies – and will nurse them back to health, rehabilitate and eventually find loving homes for each of them.
But the costs are already mounting. The horses are currently in quarantine where they will need to remain until they have the all-clear from infectious diseases, such as strangles, which might put other animals in our care at risk. Most also require urgent vet and farrier treatment.
The cost to Blue Cross for the horses' time in quarantine will be at least £3,000. They will then need to be vaccinated, microchipped and passported before starting their rehabilitation with us.
And with some malnourished and not used to any handling, the costs involved in getting them back on their hooves will continue to mount steadily.
Ruth Court, Horse Welfare Manager for Blue Cross, who was present for the rescue, explained: "As the horses we are taking in remain in quarantine and haven't been assessed by our team yet, we don't know much about them at this stage.
"Some of these horses are quite thin and malnourished. They have long, overgrown feet and are not used to being handled.
"It may be that some of the mares are in foal, so we don't know what the future holds at this stage – but there will be a lot of rehabilitation and work needed."
The horses were seized by the landowner under the Control of Horses Act with support from the RSPCA, as it is understood some of them had been dumped for unauthorised grazing on the land.
Blue Cross is one of a number of charities and authorities involved in the effort.
The multi-charity team, with the assistance of the RSPCA's specialist water rescue team and the boat team, battled the tough weather conditions and managed to coax all 43 horses across the flooded fields into make-shift pens in two stages.
The horses were then fed hay and given water while they were examined by a team of vets checking for any immediate medical concerns.
Ruth said: "The conditions there were terrible. There was not a lot for them to eat, which is why some of them were so thin.
"They were all so hungry, and had been being fed hay by the public, so came into the pens quite easily, but some were a bit more concerned about what was going on."
RSPCA Chief Inspector Jim Lucas, who led the operation, said: "I am very pleased that this has been such a successful operation thanks to the close working relationship with all partner organisations.
"It was a difficult task as it is such a big site with lots of hazards such as a river, lake, flooded fields and a railway line going across the site – but the team came together really well and we were able to safely rescue 43 horses.
"None of the animals were microchipped so we are unable to identify and locate their owner to hold them responsible. But it is great that all the horses will now be cared for and will then be rehomed."
Ruth added: "I'm very happy that Blue Cross worked with the RSPCA and the other charities for a successful outcome for these horses. It just proves the benefits of collaboratively working with other charities in this way, it's so important. Blue Cross is really pleased and proud to have been a part of it."
— Page last updated 16/12/2021