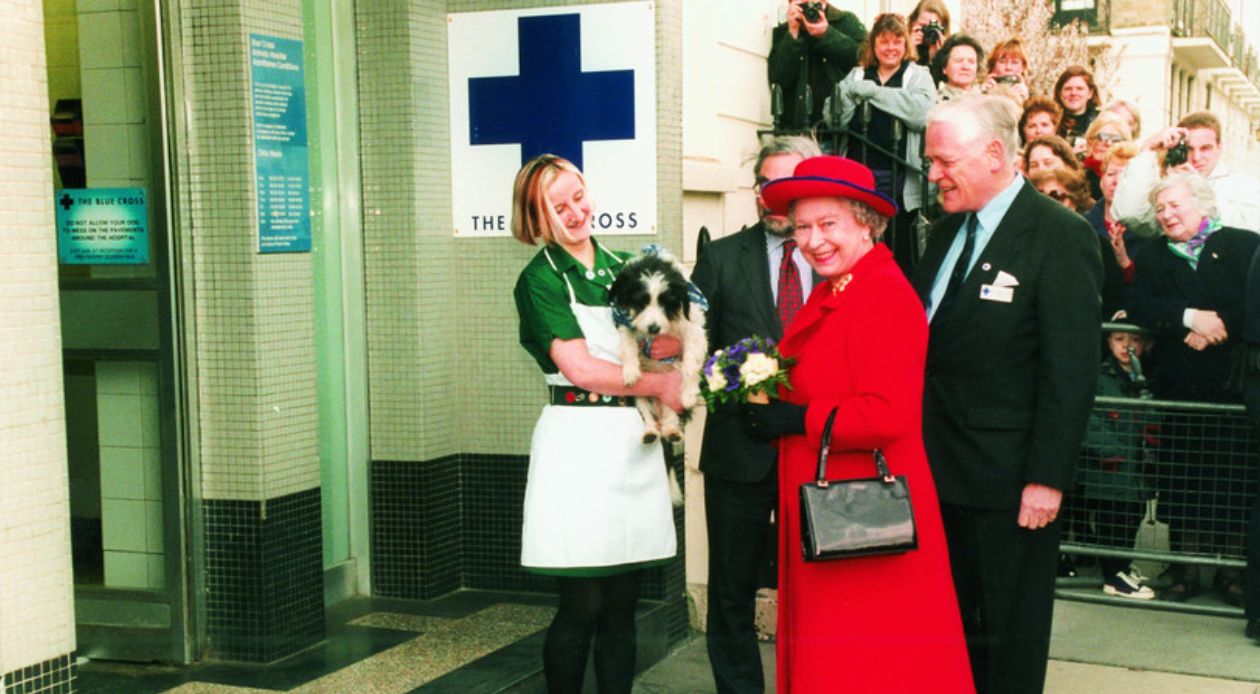 We remember Her Majesty Queen Elizabeth II
On Monday, 19 September 2022, Blue Cross will join people across the nation in remembering the life of Her Majesty Queen Elizabeth II.
Her Majesty's love of animals endured throughout her long life — with her fondness for corgis and horses particularly well-documented. So we were thrilled that in 1997, the year of our centenary, she graciously agreed to be our charity's patron until 2000.
In 2001, we also welcomed her to officially open our refurbished animal hospital in Victoria, London which continues to treat thousands of pets needing urgent help every year.
Alison Thomas, Head of Veterinary Services at Blue Cross, was lucky enough to meet Her Majesty in 2001.
"I was in the prep room where we prepare pets for surgery. I explained to The Queen how pets are anaesthetised before their operation. I remember her listening very closely before asking: 'And how do you wake them up?' I thought this was a very intelligent question."
Pets and their owners were also invited along and one young pup forgot his manners and was persistent at jumping up at The Queen during her visit. She didn't mind at all and said hello to the puppy and took it all in her stride.
Alison Thomas, Head of Veterinary Services
Blue Cross's 125 year history
For our 100th anniversary year, Her Majesty The Queen kindly offered to become our Patron. A quarter of a century on, we have had the chance to reflect on 125 years of helping vulnerable pets and the huge impact pets have on our lives. 
In the late 19th century, our founders recognised a real need for an animal hospital to provide health care to the poor and help the many working horses across London. Sadly, these animals were often left collapsed on the street because there was no help for them if their owner had little or no money. Back then, Blue Cross was known as Our Dumb Friends' League (ODFL)  — a phrase thought to have come from Queen Victoria, who owned many pets during her lifetime.
The Blue Cross animal hospital in Victoria is thought to be the first of its kind in the world. It was opened on Tuesday, 15 May 1906 by HRH the Duchess of Teck. The location was the former stables of the Duke of Westminster in Hugh Street where it continues to help pets and their people today.
Never closing its doors to pets in need, the animal hospital has continued to treat pets during both World Wars, rescuing pets trapped in bombed buildings during the Blitz and treating them by candlelight in blackouts.
In 2001, the animal hospital was completely rebuilt and was officially opened by Her Majesty The Queen who was given a full tour of behind the scenes. The new hospital is three storeys high with a large waiting area, operation theatres, dispensary, kennels and six consultation clinics. Today around 2,000 pets are helped there every month.
— Page last updated 15/09/2022