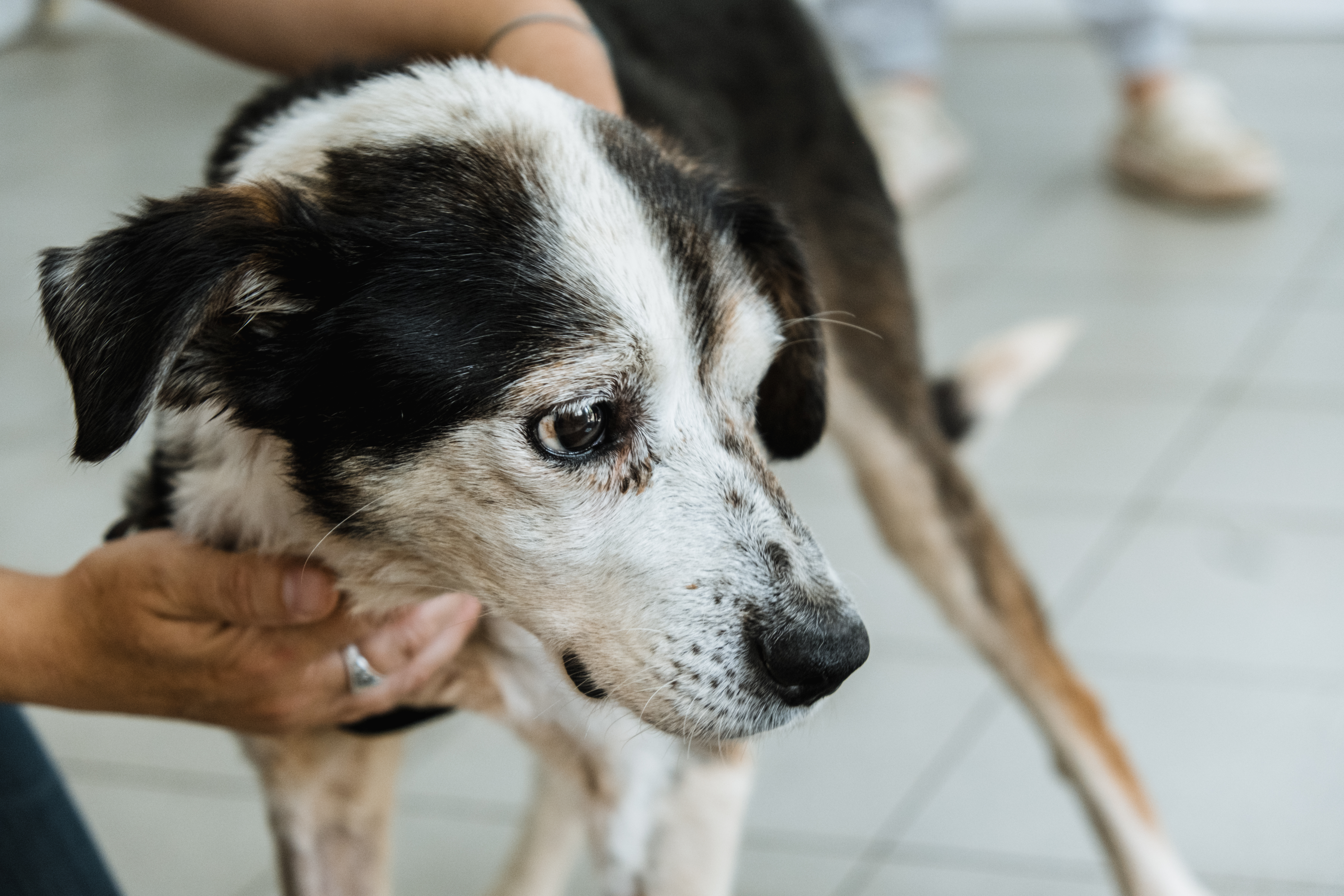 Dog cheats death twice in Ukraine devastation
Henry was one of the many dogs rescued when the Kakhovka dam in Kherson was destroyed in June, before surviving a bombing at the clinic treating him…
Alone, scared and covered in toxic sludge burning his skin, Henry was barely clinging to life when he was spotted by rescuers.
Just three months on and he is in a loving new home thanks to Save the Dogs and Other Animals (STD) – a charity support by Blue Cross's Ukraine Pet Welfare Fund.
The flooding in the city of Kherson caused devastation for pets and people in the area. But, thanks to STD, Henry was brought to safety.
Rescue teams used boats to reach as many animals like him as possible.
To avoid drowning, brave Henry had used all his energy to swim to the rubble of a destroyed building rising from the flood waters.
Collapsed, exhausted and barely conscious, he was hours – if not minutes – away from death.
Gregg Tully, Country Director for STD, explains: "After the Dam in Kherson exploded, [Henry] was one of the dogs that was pulled out of the flood waters.
"He was covered in oil and sludge. There was a lot of toxic material at the bottom of the reservoir that washed out with the flood."
The thick coat of toxic oil coating his fur also caused painful chemical burns to his skin.
Gregg adds: "We thought he was a black dog – we thought this dog was all black. And then he was cleaned up and taken to a vet clinic, and actually, he's more white than black."
Henry was then taken to a clinic in Odesa for round the clock treatment.
But his ordeal didn't end there. Shortly after his rescue, the clinic caring for him was bombed by the Russians.
Thankfully, Henry and the other animals in the clinic were unharmed, and receiving treatment at another clinic which included medication for heartworm.
Caused by a parasitic worm that is spread through the bite of a mosquito and requires long-term treatment, the condition left him weak – but improved every day.
Despite Henry's hardship, Gregg says: "He's a really happy dog. He's still very underweight and he still has some skin problems, but he obviously loves people.
"It's been really inspiring after seeing the videos of him getting pulled out of the flood waters, and now he's a happy, loving dog. I won't forget him – it was really amazing to see that."
Liliana Pacheco from STD, adds: "[Henry] did not deserve what happened in Kherson. But here he is and it's thanks to Blue Cross, the donors and Zhanna [volunteer of Save the Dogs and Other Animals], so thank you very much from the bottom of our hearts, thank you."
Thanks for the dedication of STD, Henry is now in a loving new home in Poland.
New owner Anya says: "When the Russians blew up the dam, I saw a video of Henry and my heart broke.
"I realized that no one would want to take him in, and he will never feel that someone loves him after this hell he went through. That's why I started looking for him. I found the hospital where Henry was taken. They didn't think he would survive because he was very injured, but he was treated, and he was transferred to me in Poland. Every day he gets a little bit stronger."
Henry's story
— Page last updated 26/10/2023