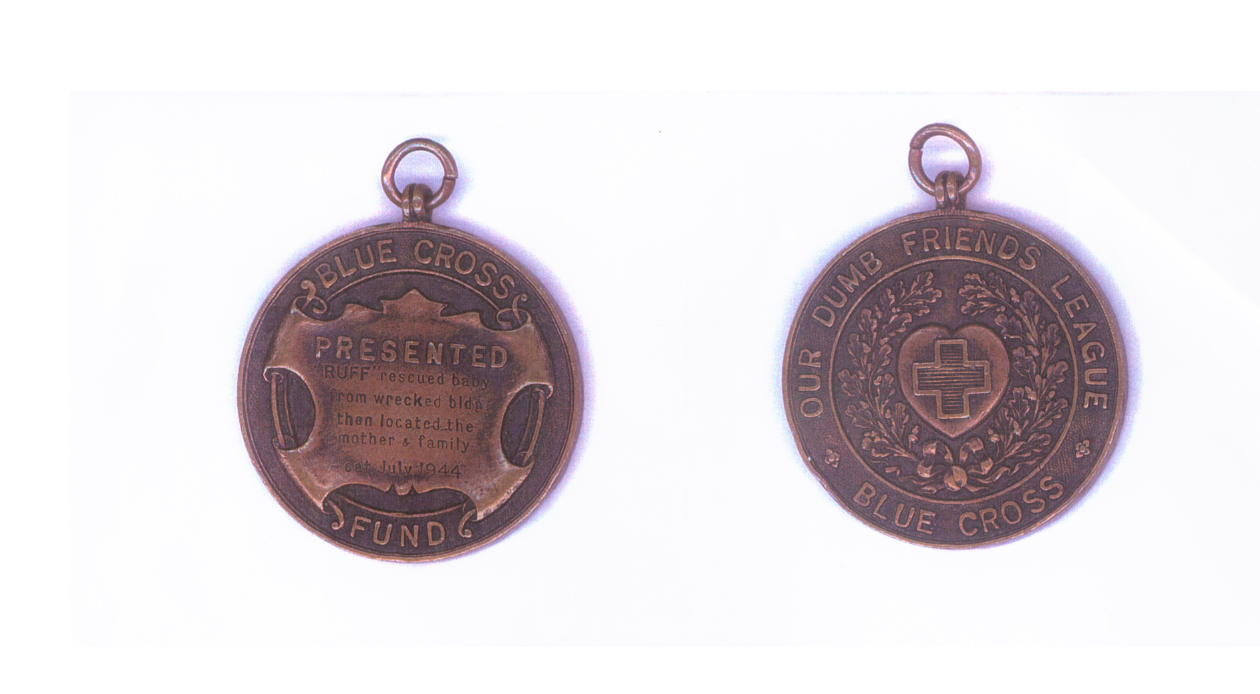 Hero pets through the ages
We take a look back at some of the remarkable animals awarded the Blue Cross Medal during our charity's history...
We know that every pet has the power to change a life, but some animals display extraordinary feats of heroism and bravery that nobody could expect.
And, as Blue Cross celebrates 125 years of helping pets, we've delved into the archives to remember some of the remarkable four-legged friends that have done just that over the course of our rich history.
Each year, our charity awards outstanding pets the Blue Cross Medal, which, for animals, dates back as far as 1940, when a dog named La Cloche was honoured for saving a marine from drowning.
Since then, it has gone on to pay homage to many more miracle pets, including those who have saved children's and adult's lives in terrifying ordeals involving fires, water, snow and even quicksand. 
From hero pets of the Blitz to modern-day assistance animals, here are just some of those that Blue Cross is remembering in this milestone anniversary year.
1940 La Cloche
This hero hound saved the life of a marine who was thrown into the sea when his ship was torpedoed by a German submarine.
Our annual report from this year detailed the incredible rescue, saying: "He [the marine] could not swim. His dog, left on board, dived into the sea, swam to his master and supported him for a considerable time in the water until the man was hauled out unconscious, and so saved. 
"The dog sheered off the boat and could not be pulled out of the sea owing to the swell, it was thought that he was lost, but managed to find a log of wood on which he clambered and was later found riding the seas waiting patiently for his own rescue."
We took care of amazing LaCloche and returned him to his owner after the quarantine period.
1941 Juliana
This plucky great dane was awarded the Blue Cross Medal not once, but twice. Her first act of heroism was to miraculously extinguish an incendiary bomb that had fallen through the roof of her home during the Blitz.
Three years later, the special dog alerted customers to a fire ripping through her owner's shop. Her painting, shown here, was discovered during a house clearance at a property in Bristol many years later.
1942 Jim
While other animals were saving lives as the Second World War raged on the continent, cat Jim was keeping a watchful eye over his beloved family.
At 19 years old, the miraculous moggy raced upstairs to wake his owners, Mr and Mrs Coffey, when a fire broke out in their Malden home, even though he could easily have escaped the smoke alone.
1944 Ruff
When a bomb wrecked Ruff's family home, the Airedale-sheepdog cross instinctively knew what he needed to do. 
With his owner and her 10-month-old son trapped beneath the rubble, he dug through the debris until he found the baby, gripping his clothes to gently drag him out to safety.
Ruff then alerted the rescue team to his owner, who was also rescued unharmed, as well as fellow family pet, a cat called Ginger. 
Graham Sclater, the little boy, went on to become inseparable from Ruff, who lived until he was 11. 
2007 Jake
Serving as a Metropolitan Police explosives dog, springer spaniel Jake showed remarkable bravery during the 7 July 2005 terrorist attack on London's transport network which killed 52 people and injured more than 700.
He cleared the route for paramedics to reach the wounded at the scene of the Tavistock Square bus bombing and then walked along the Tube tunnel at King's Cross, allowing people to access medical treatment.
Jake's owner, PC Crawford, said at the time: "Jake is a hardworking dog who performed brilliantly on the day of the bombings. Jake will wear his Medal with pride."
Actress Felicity Kendal awarded Jake his medal.
2014 Daisy
Part of a revolutionary canine team, Labrador Daisy was one of the first Medical Detection Dogs to be trained to detect cancer. 
A pioneer in sniffing out the disease in breath and urine, she was awarded the centenary edition of the Blue Cross Medal after saving hundreds of lives, including that of her owner, Dr Claire Guest.
Daisy sadly died in 2018, aged 13, having dedicated her life to the cause, but her legacy lives on today.
2015 Bonnie
Guardian angel Bonnie, a staffie-whippet cross, helped terminally ill children and their families through their last moments and taught a suicidal man to love and live again.
Despite having a tough start to life herself, the rescue dog, who has since passed away, worked tirelessly to help hundreds of people in her community in Grimsby, Lincolnshire. 
She had already had seven homes before being taken in by Vicky Burns but grew in confidence and, after six months, passed the test to become a Pets as Therapy dog.
2016 Romeo
Super staffie Romeo is not only a qualified Pets as Therapy dog, visiting stroke patients or brightening the day for the residents of a local care home, he is also a regular canine blood donor for the Royal Veterinary College.
And as if bringing happiness to people and saving fellow dogs' lives wasn't enough, he also joins his owner Steph Hartley on runs to help raise funds for charity.
2020 Carrots
Despite losing both eyes as a kitten, cat Carrots has dedicated his life to bringing happiness and comfort to sick patients and their families at a hospice in Bradford.
Owner Katie Lloyd says: "He has also been there for everyone at the Marie Curie Hospice in their hour of need and is special to so many people. 
"He loves visiting patients and settles beside them so that they can stroke him and listen to him purr. He touches the hearts of everyone he meets and has a great sense of love and responsibility."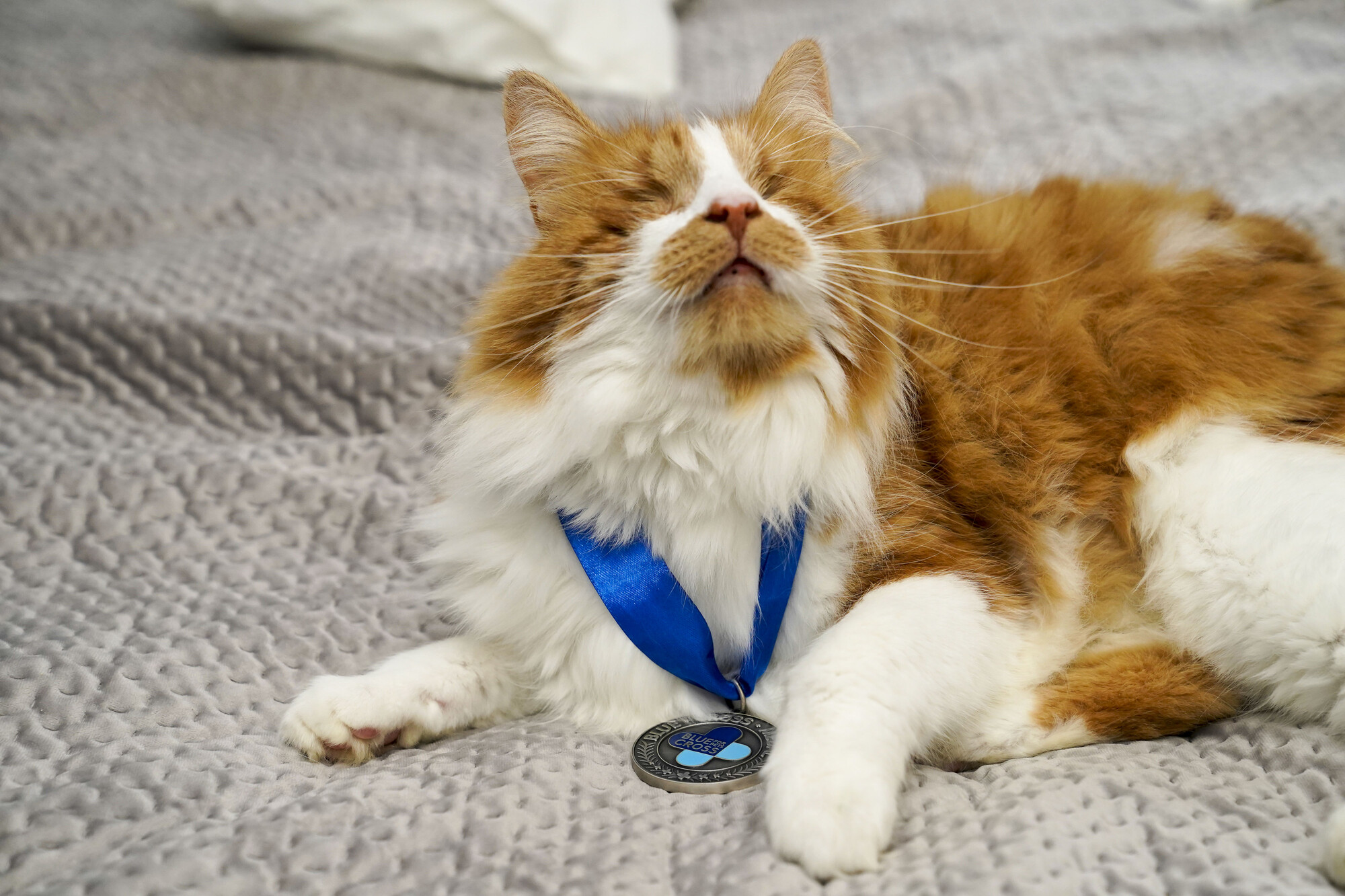 — Page last updated 22/11/2023