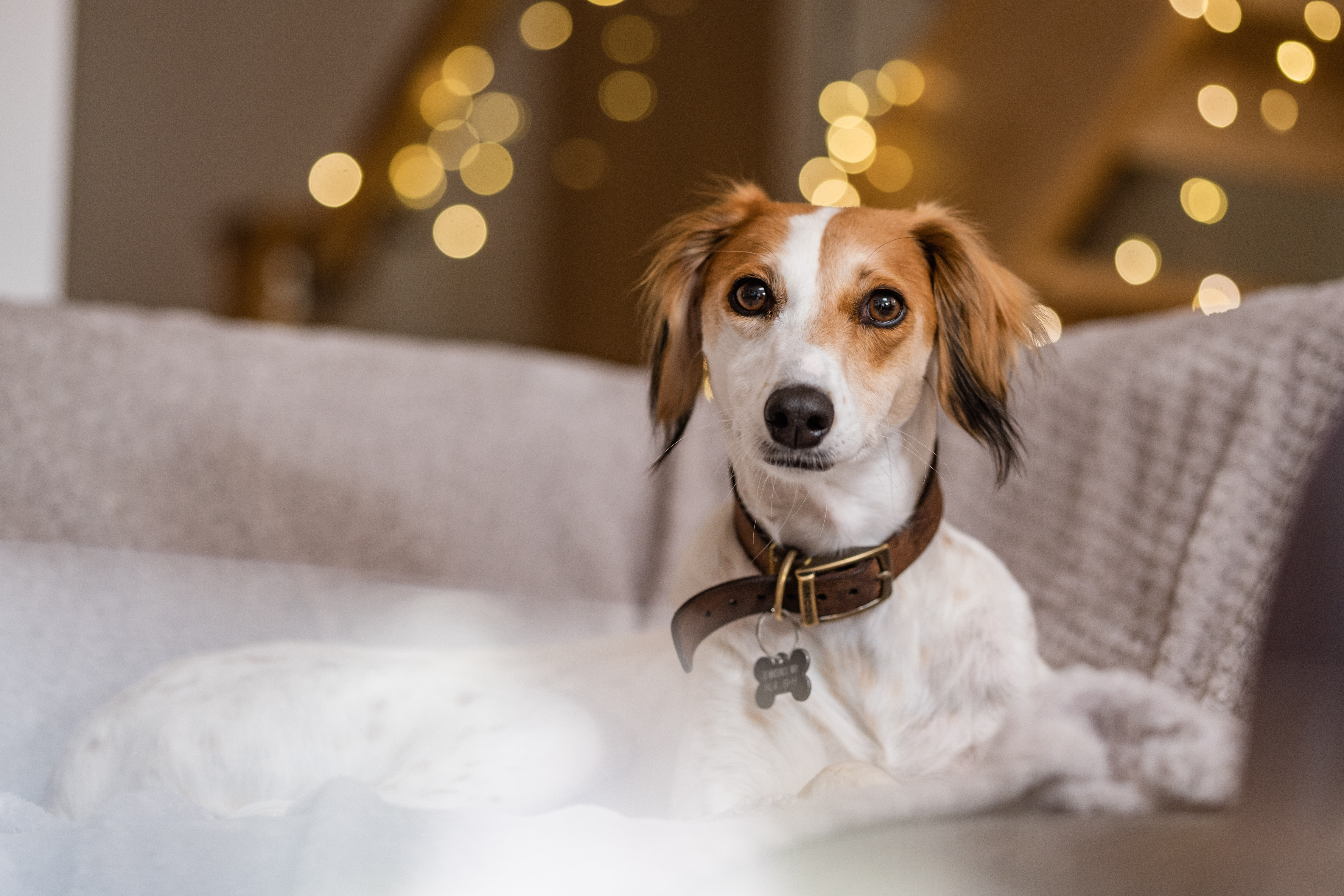 From freezing stray to a much-loved pet
Lilly is warm this Christmas
Found shivering in the snow days before Christmas, Lilly was scared and starving.
Nobody knows how long she had been straying in sub-zero December temperatures, but thank goodness she was picked up by the dog warden when she was.
As well as being skeletal, poor Lilly – thought to be about three years old – was suffering from a painful skin condition called sarcoptic mange, which left her covered in itchy, open sores.
The white and tan lurcher also had intestinal worms that needed quick treatment.
After a week, when no one came forward to claim sweet Lilly, she found herself in Blue Cross care.
Sophie Stewart-Smith, an Animal Welfare Assistant at our Hertfordshire centre, says: "Lilly was found in the snow and was all skin and bones.
"She had mange and had already started treatment with the dog warden. At first, we had to wear PPE (personal protective equipment) to go in her kennel with her."
Unsurprisingly, Lilly was terrified. And didn't yet know she could trust humans again.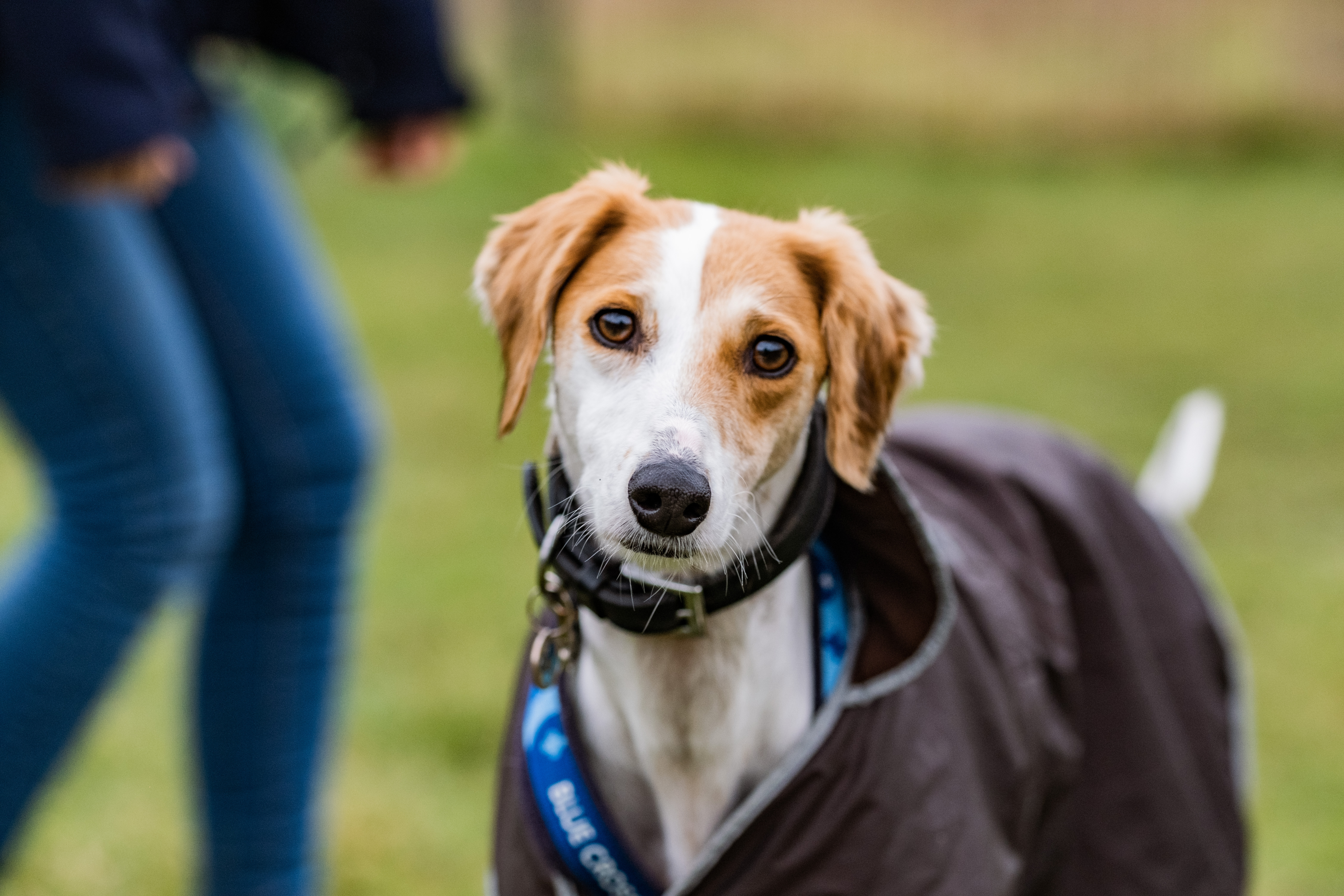 Sophie continues: "She was very scared and would go into freeze mode when you approached her, but she started to grow in confidence after about a week.
"We started by just going and sitting in her kennel to spend time with her. And once she knew we didn't pose a threat, we were able to very slowly open up her world a little bit.
"When she gets to know you, she's very bouncy and animated."
Lilly, who became well-known for her 'signature prance' when meeting people, sadly had a couple of further health setbacks in our care. And her timid nature unfortunately put off potential adopters.
But, after a long 134 days at Blue Cross, she found the perfect new family to love her – and this Christmas will be so very different to her last.
Sam Cairns lost her beloved mum suddenly to cancer a few weeks before finding herself compelled to look on the Blue Cross website for the first time.
Her family has a rich history with our charity's Kimpton site. Before her parents met, Sam's mum adopted a lurcher from there called Prince. Then, once married, the couple welcomed home lurcher Penny, their first dog together. And Twink, another Blue Cross lurcher, was their last.
All three were treasured pets. So, Sam also fell in love with the crossbreed and knew that, when the time was right to welcome a pet into the family fold, she would also look for a lurcher.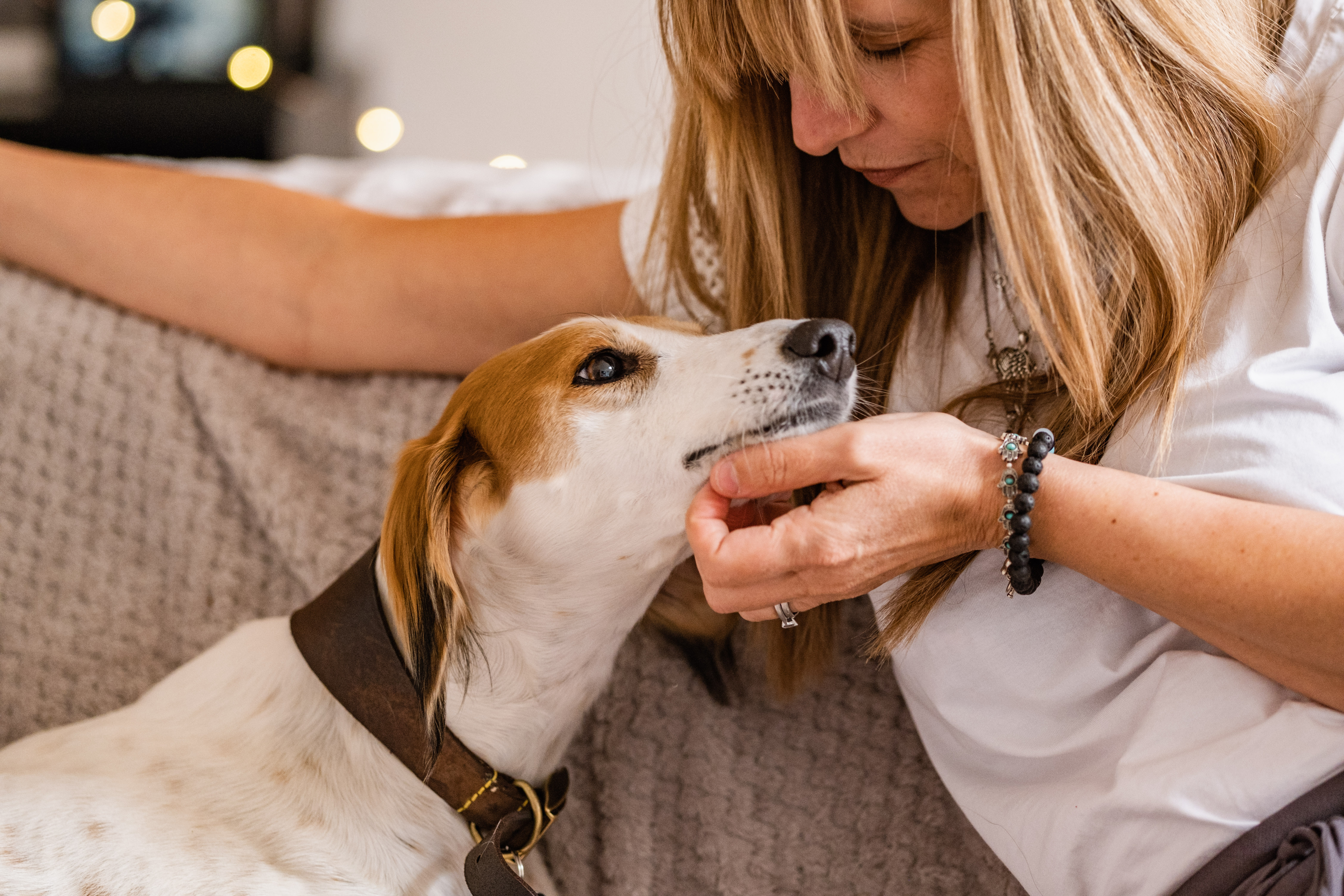 And in a moment of quiet reflection following her mum's funeral, having been reminiscing over photos in which family pets so often took centre stage, she visited our online rehoming page.
And up popped Lilly's face. It was fate, she thought.
Sam says: "I'm absolutely sure I was meant to see that picture that day. I can't give you a reason why I went on there [the Blue Cross website], unless it was just seeing a photo of Twink and then thinking about how my dad got him from Blue Cross. But she was literally the second face I saw."
Days later, after two successful meets at the centre, Lilly walked into her new home. And she couldn't be more loved by Sam, her husband Jamie and their two children, Tilly and Tommy.
"She's completed us really," says Sam. "I just wish my mum had met her. She would have absolutely loved her."
Sam explains that the focus Lilly has provided has helped immensely through her grief.
It has taken lots of time and patience to settle Lilly in. While she's unrecognisable from the shell of a dog that arrived at our doors on December 29th last year, she still has many fears to overcome.
With guidance along the way from our Behaviour Team, Sam and Jamie have been carefully introducing her to new experiences and she is gradually building confidence around unfamiliar people. She remains particularly nervous around other dogs and men.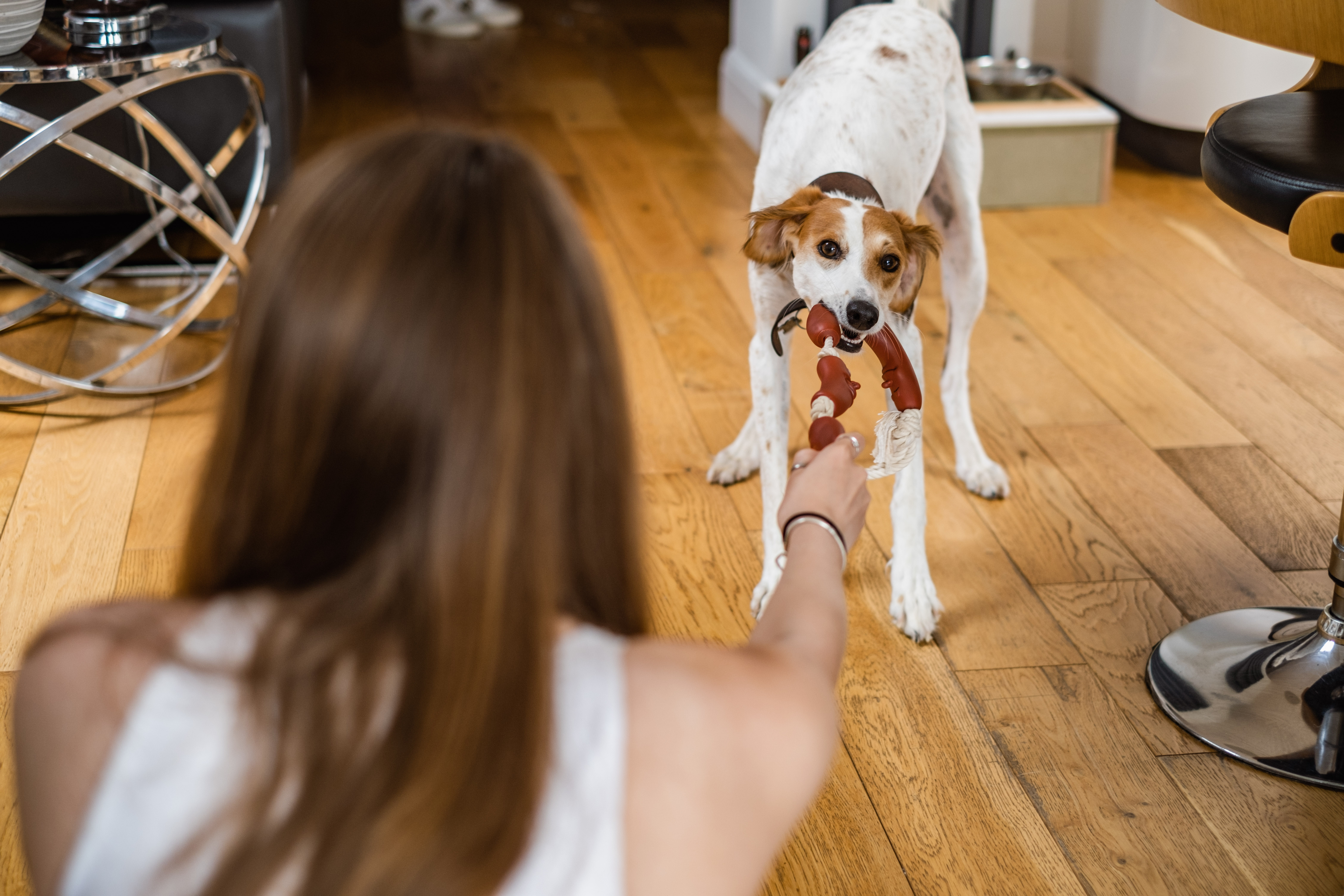 Sam continues: "Most of my focus, I think, was totally on her for ages. And just making sure she was settling in. I guess I went from one worry to another worry. But it was a good worry – it took my mind off stuff… My best friend said she had probably been my saving grace."
Having Lilly has also brought the family closer together. Sam explains that she and Jamie are out most evenings walking together, come rain or shine, which is something they hadn't done before.
But she admits that there is now less room for the family on the sofa, as Lilly likes to sprawl herself out and take up a whole corner section even though she has a sumptuous bed of her own close by.
They wouldn't have it any other way, though.
Lilly has landed on her paws – and, this Christmas, she can look forward to what's likely to be her first festive period in a home, relaxing in the warm and wrapped up in love.
And it's all thanks to kind supporters like you.
— Page last updated 07/12/2023