Meet Olly: the true story behind the Blue Cross rescue dog who stole the show at Crufts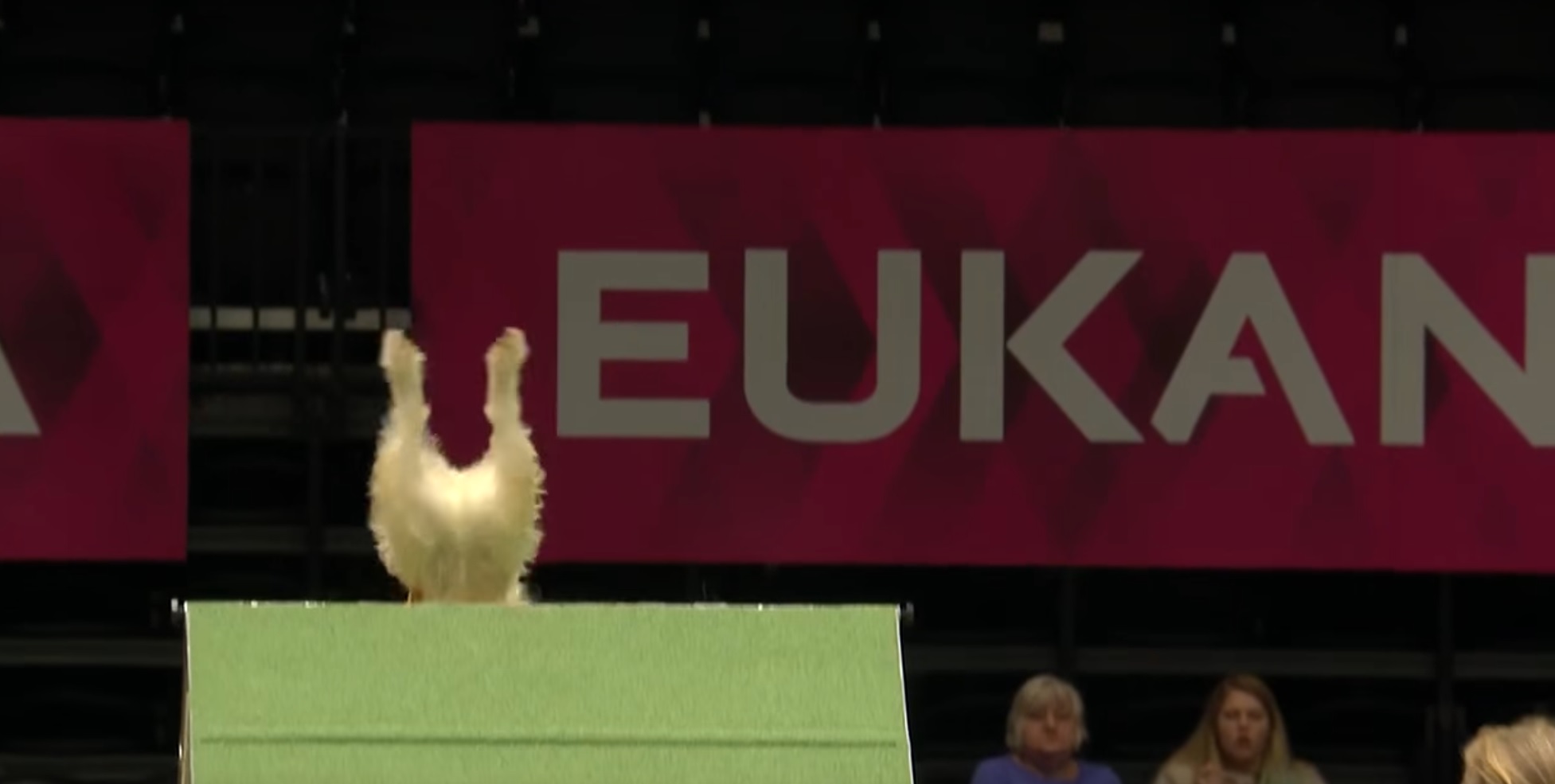 For over 100 years, Crufts has been the domain of primped and preened pedigree pooches - but this year a scruffy rescue dog stole the show.
Olly, a five-year-old Jack Russell terrier found instant fame when the moment he took a tumble and face-planted during an agility jump attempt at the world's biggest dog show was captured on camera.
His owner, Karen Parker, says: "I didn't think he could top last year's performance, when he ran into the crowd rather than around the course. He's like that all the time, he's insane! One of the presenters showing the clip on TV news said, 'We should all have a bit of Olly in us' and I thought 'I don't think you need that!'
"My friend lives in Australia and she saw him on the news there, he's everywhere."
Olly was taking part in the rescue dog agility display event when his excitement got the better of him and he forgot the years he'd spent honing his craft at training classes and did his own thing instead.
Joined in the ring by Karen, Olly gives a hint of his true agility ability when he gets to the weave poles and performs a perfect few, but his flawlessness is fleeting, and he next runs under a piece of equipment that should be an over.
His enthusiastic attempt at the A-frame obstacle, which sent him flying over the top, won chuckles from Blue Peter legend Peter Purves, who was commentating on the event: "Wrong way through. Oh well, doesn't really matter, does it?!
"Oh, what a nose dive! And he couldn't care less. Here we go, wahey! That's one of the best shots I've seen in a long time!" he added, laughing all the way through.
Fans will be relieved to hear that the wayward dog has been given the all-clear by a vet, and enjoyed a relaxing massage shortly after skidding across the arena floor head first.
"He had such a great time," says Karen. "We're already looking forward to next year!"
Olly celebrated winning the hearts of the nation by tucking into some tasty sardines on Friday evening.
From zero to hero
But Olly's life hasn't always been so fun-filled. At just six weeks old he was abandoned by the gates of our Hertfordshire rehoming centre near Kimpton inside a cat carrier. Thankfully we found him before he could escape and rushed the tiny pup inside to safety.
Karen had spent a year looking for her new pet, and believes they were meant for each other: "I had lost my lovely Lurcher girl who was my world, and I needed to find my new best friend. Dogs just don't live long enough. 
"I saw Olly but another family had already booked to come and meet him that weekend. On the Monday morning I phoned up, before the centre was even open, and they told me 'sorry, but he's down as reserved'. They checked the list and he had been reserved to me! The other family had decided not to have him and I was next on the waiting list."
We named Olly 'Loki' while he was in our care, after the Norse god of mischief; perhaps a sign of the fun-loving adult dog he would become.
Their first meeting may have put off some owners, but Karen was already besotted. She remembers: "He humped my foot, he completely ignored me and I thought 'this is my naughty dog'! I love him so much."
He joined the Parker family at 10 weeks old.
Stage fright
If you're one of the many millions of people around the globe who have watched the now-infamous clip of Olly's Crufts run, you may be shocked to discover that the excitable chap has been taking agility classes for four years – and he's usually really good.
Karen says: "At our training club he does everything beautifully, and then I take him to shows and he just loses it. He just switches off.
"He once almost did a whole circuit at a show, and then two obstacles before the end he saw a collie and went to say hi, and that was it."
Karen explains that during agility, a dog should touch certain areas of particular obstacles for safety reasons, and they can drop points in competitions if they fail to do this.
The A-frame, see-saw and dog walk have contact points; the white areas of the obstacles on the way up and the way down.
Rescue dogs rock; they really do rock. Get them. Get them, get them, get them!

Karen Parker, Olly's owner
She says: "Olly didn't touch the contacts in his run at Crufts and flew over the top of the A-frame; that is not how he's been trained!
"Agility is a really great way for people to enjoy spending time with their dogs, to grow the bond between you and your dog, it's great mental exercise for them, and it's brilliant physical exercise for both of you. It certainly builds up your lung capacity!"
[Video below: Olly's 2016 rescue dog agility Crufts attempt]
Star of the show
The pair decided to take part in rescue dog agility after seeing a post online asking for dogs rehomed from Blue Cross to represent the charity at events, giving the public a display of how wonderful rescue dogs are. His Crufts appearance certainly reminded everyone just how much fun these dogs are to be around, and how much joy they have to give.
There's no doubt in Karen's mind that people considering introducing a dog to their family should turn to a rehoming organisation like Blue Cross to find their perfect pet. 
She says: "Rescue dogs rock; they really do rock. Get them. Get them, get them, get them! 
"He'd had one-to-one training, injections, he'd been vet checked, he came with a voucher to get him neutered once he was old enough, and I know I can pick up the phone and call Blue Cross if I ever need any help with anything. You just don't get that that from a breeder.
"I've learnt so much from him; he has taught me so much. He's mad as a box of frogs and I really do believe he was meant to be mine."
Family pet
Olly shares his sofa with 14-year-old Jack Russell-border terrier cross Boo, 10-month-old Jazz, a Jack Russell-collie cross, and Evie, a Jack Russell who belongs to Karen's 11-year-old daughter Grace, who has been involved in training the family pets from a young age.
From dog dumped like rubbish, to much-loved family pet, Olly has found his fairytale happy ever after.
Karen says: "Olly spends most of the summer in the back garden sunbathing. He loves walking, he loves running, and he loves having a bath.
"Once, right after he'd just had a bath, he managed to open the back door and my daughter, Grace, found him rolling around in the mud in the garden.
"Yes dogs should be trained, but they should be able to have fun too."
We couldn't agree more!
— Page last updated 21/12/2021