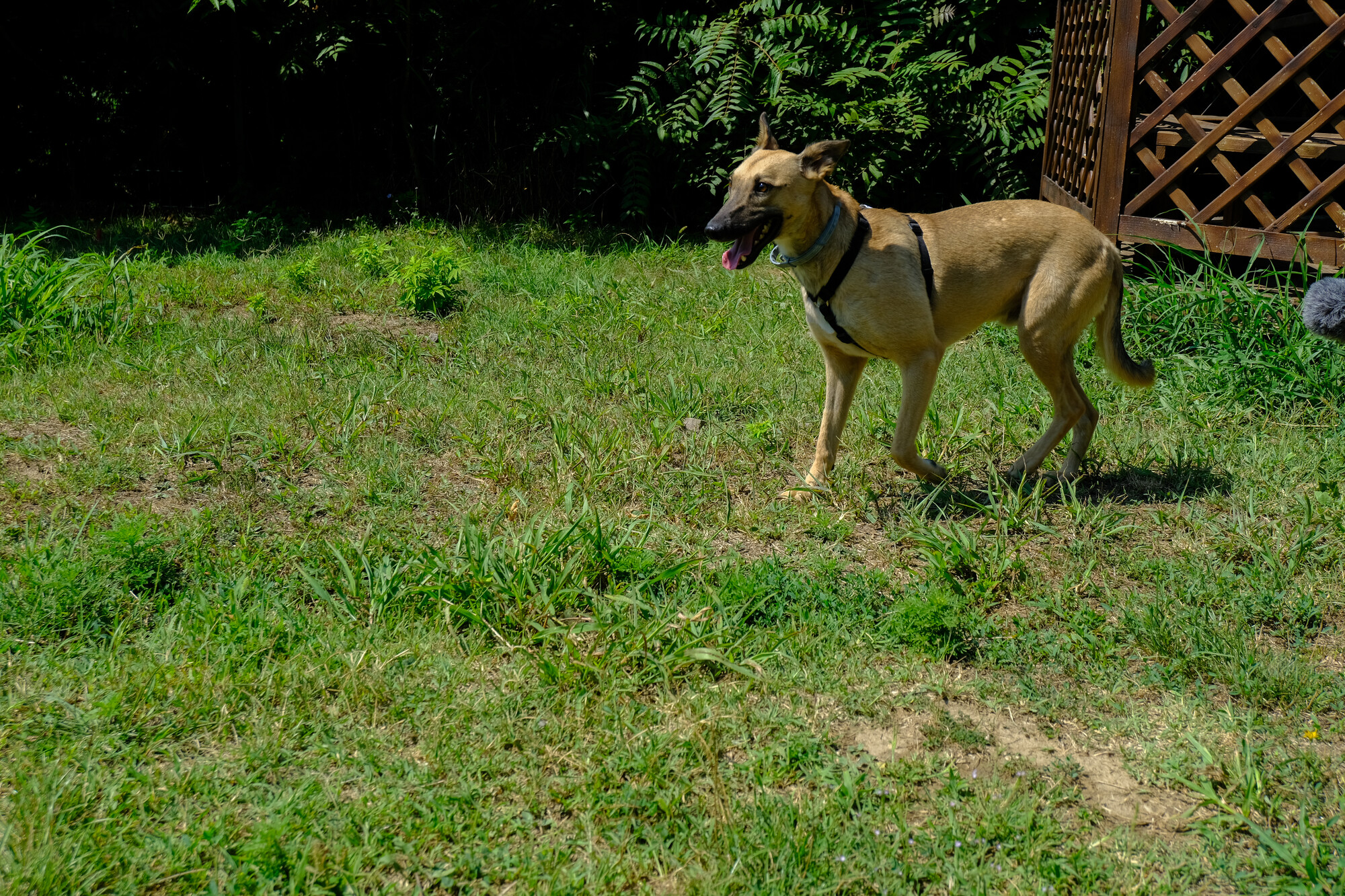 Overcoming fears
Giorgio was terrified of loud noises after being rescued from a Ukraine shelter bombing...
Giorgio cowers at the sound of any loud or unusual noise.
Nobody knows for sure, but it's likely to be linked to the trauma of the shelter he called home in Ukraine being bombed by the Russians.
He's one of 30 dogs saved from the shelled site in Odessa in March last year and taken to Save the Dogs in Cernavoda, Romania.
There, explosions from missile tests are often heard, as the rescue centre sits around 85 miles away from the Ukrainian border. Giorgio finds these noises particularly hard to bear.
He's also afraid of vehicle sounds and sometimes even the wind, but he has learned to find reassurance in the caring team that has been helping him to overcome his fears.
One of his main handlers, Francesca De Matteis, explains: "Giorgio has a problem with noise. He was probably used to living in an isolated place [before the war]. 
"If a car is passing, if a tractor is passing, or even if there's too much wind at that moment, which maybe makes a tent move, he gets scared immediately. 
"So, we have been bringing him into the playground and, if something's happening, like a car passing, we will soothe him. We try to get him a bit used to it."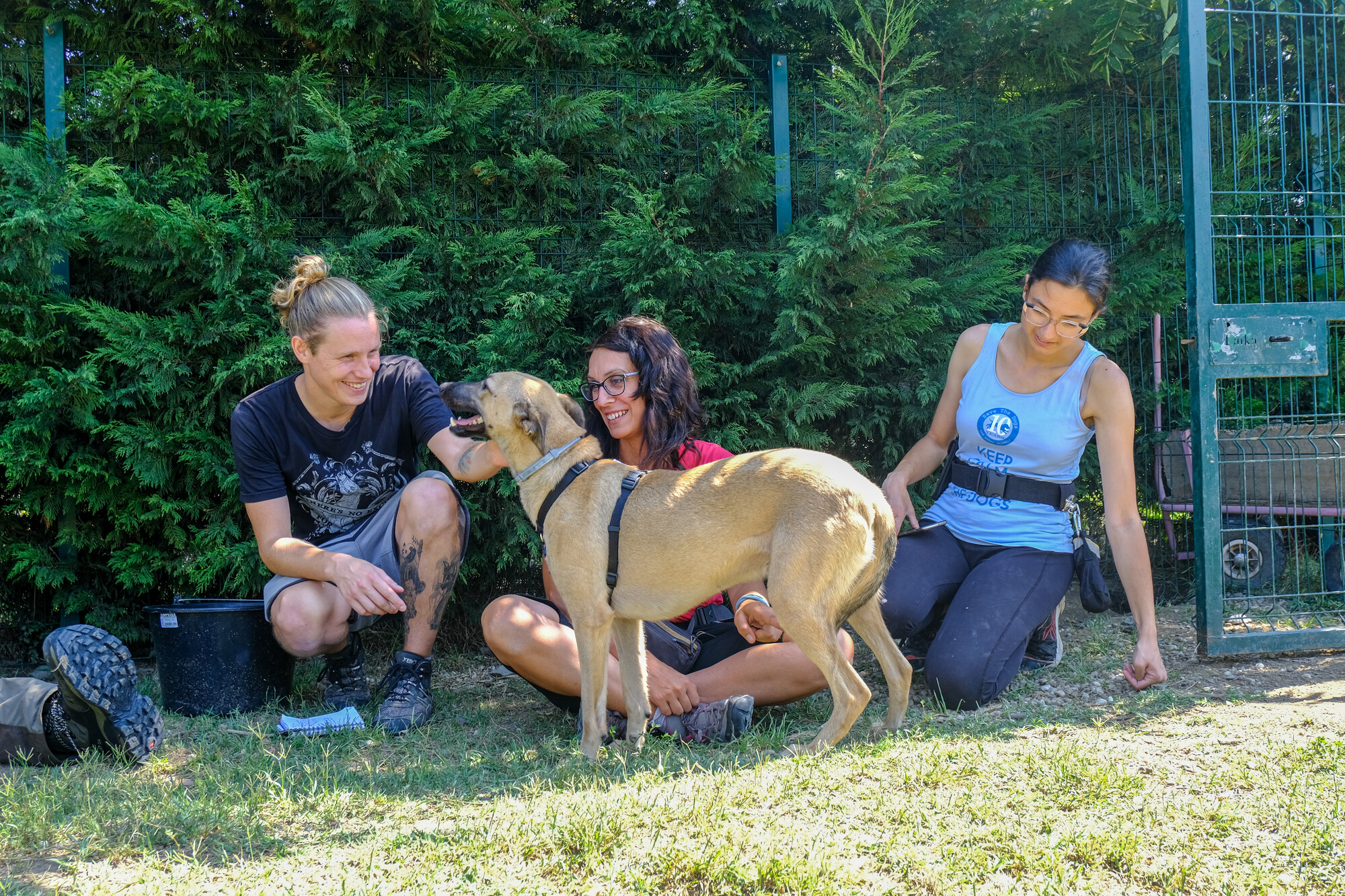 Like several of the dogs rescued from the Ukraine shelter, Giorgio tested positive for heartworm on his arrival at Save the Dogs.
It meant that he had to be kept in isolation for four months, away from other dogs, while he underwent vet treatment at the on-site clinic for the potentially life-threatening condition.
During that time, the team focussed on building his relationships with people, with at least three walks a day and plenty of time for play in the enrichment garden at the centre.
Francesca says: "Giorgio is a lovely dog. He's very happy to stay with people but he's probably not very used to it. But he's improving day by day."
And, after testing negative for heartworm, he is now able to socialise with his four-legged friends while he waits to find the happy home he deserves.
The Save the Dogs team will be looking for a family living in a quiet, rural location in mainland Europe to adopt Giorgio, to limit his stress.
Seeing him reach this point in his rehabilitation is what makes Francesca's job so rewarding.
She adds: "Giorgio is amazing. You see him and immediately go in a good mood because he's very fun and lovely and sweet and full of energy. He's a positive dog."
"For us [to help these dogs] is something beautiful, because you remember when they arrived here. Of course, they were in shock because of the movement and because of the trip. It was quite long. 
"Most of them were quite scared so, for sure, to see them so comfortable with new people in a new place – and with some of them already left to find a new family – is, what can you say? We're so happy for them."
Blue Cross Ukraine Pet Welfare Fund
Help those affected by the war in Ukraine by donating today.
Donate today
Blue Cross Ukraine Pet Welfare Fund
Help those affected by the war in Ukraine by donating today.
Shelter bombing left dog's soul crushed
— Page last updated 31/01/2023