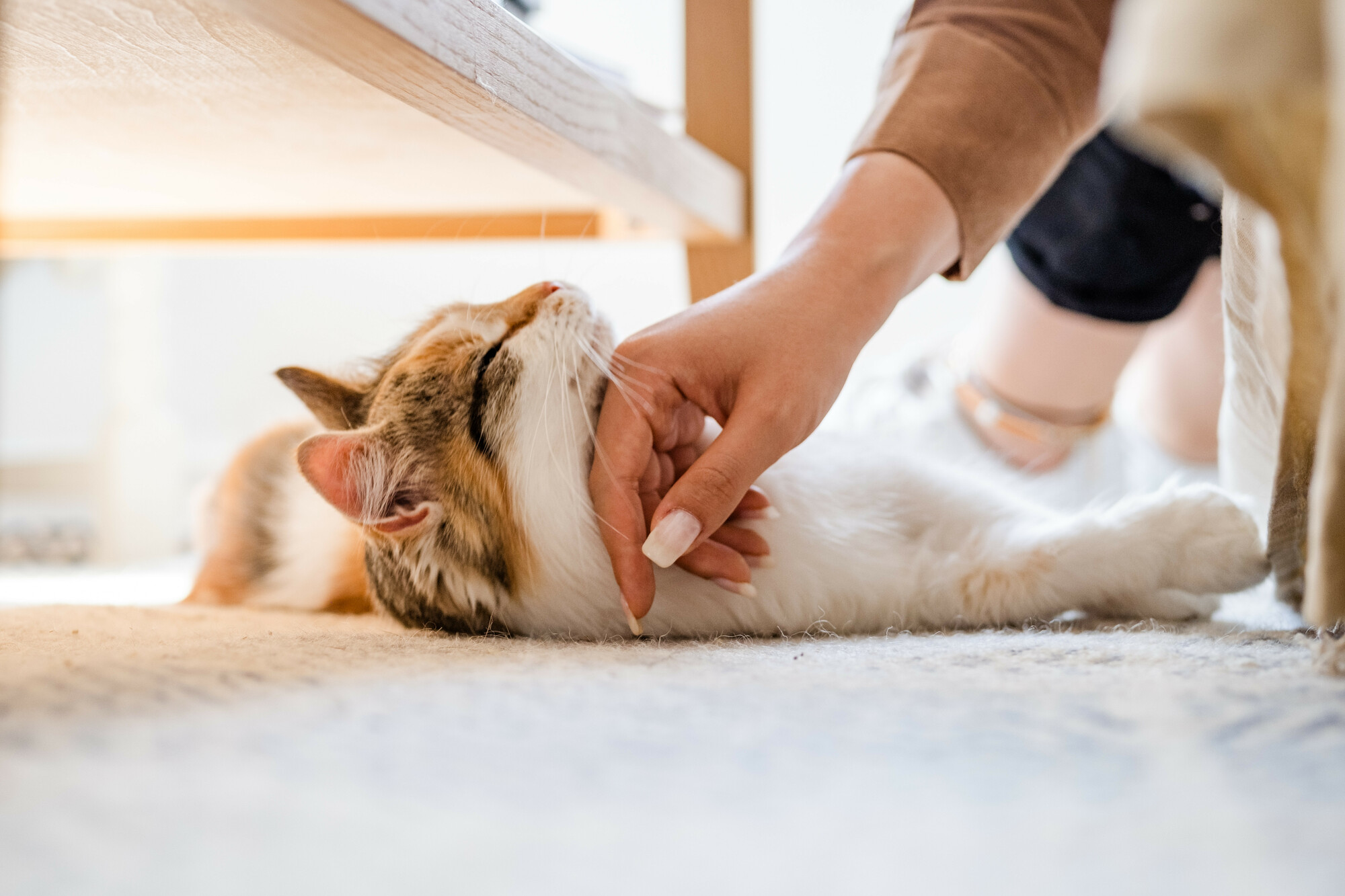 Pets offer piece of home after fleeing war
"Elya is a part of me, I go anywhere with her," says Lisa about her beloved cat.
Lisa is just one of 6.7million people forced to leave Ukraine since the Russian invasion began in February 2022.
In the European nation, many people shared their homes with pets; animals kept and loved as part of the family. Some will have had no option but to leave their pets behind as they fled; others have been pictured journeying for days with a few personal belongings in one hand, a cat basket in the other. The decisions Ukrainian pet owners have been forced into making are unimaginable.
Shortly after the invasion, Natalia left her home in Kharkov, a city close to the Russian border, and moved in with her daughter and granddaughter in Kyiv, where the family believed they would be safe. Bonya, Natalia's beloved canine companion of eight years, came too.
But it soon became clear the capital city was not the sanctuary the family had hoped it would remain, and the three women fled to Poland, along with little Pekinese, Bonya, and cat Elya, owned by Natalia's granddaughter, Lisa.
Lisa said: "When I planned to leave Ukraine (because of the war) I had no idea to leave Elya and Bonya in Ukraine, this is impossible."
Through social media, Lisa found a stranger from southern England who had reached out to Ukrainian pet owners, offering a place to stay in her home for them and their pets. The kind woman contacted fellow pet lovers across Europe and organised volunteers to drive Lisa, Bonya and Elya across Europe from Poland, to where the family had escaped their war-torn home.
Lisa says: "My sponsor and friend from England did almost [the] impossible.
"They found volunteers who help Ukrainians with animals. The first car took us from Poland to Germany. The second car from Germany to Calais. We drove for a day, only me, Elya, Bonya and volunteers."
All of these people helped Lisa, Bonya and Elya out of the kindness of their hearts. Each a normal yet remarkable person, just wanting to help pets and their owners flee a horrific situation.
Bonya and Elya were taken from Lisa on the ferry crossing from Calais to Dover by border officials. Lisa had journeyed across the continent with her furry family members sitting on her lap for days, and suddenly they were separated, with the pets placed in the back of a quarantine van headed for kennels.
Lisa says: "Elya and Bonya were taken from me right from the ferry, I really didn't want this moment, but such rules."
Although the law allows pets to enter the UK from abroad if they can prove they are rabies-free, getting proof of the matter through a blood test or documentation is nigh-on impossible for those fleeing war zones. In the absence of official paperwork, dogs, cats and ferrets who have made it to Britain from Ukraine must be isolated until they are certified as free from infectious disease. For many pets, this means a four-month stint in quarantine kennels.
After four weeks in kennels near Dover, Bonya and Elya moved to continue their quarantine at Blue Cross.
When Defra reached out to Blue Cross asking for help with housing dogs and cats in this desperate situation, we couldn't turn them away. During the Second World War we had opened our kennels to the pets of refugees from across Europe, and it seemed right to answer this call once again.
Unlike many private quarantine kennels, our facilities have the advantage of secure exercise areas when pets can stretch their legs while remaining separated from other animals, and engage in some much-needed play with our team; particularly important for animals who have been through huge upheaval and are missing cuddling up with their beloved owners.
Sophie Stewart-Smith, Animal Welfare Assistant at Blue Cross Hertfordshire rehoming centre, near Kimpton, where many refugee pets have been cared for, said: "We've been making sure they get exercise outside their kennels each day by taking them onto the field next to their kennels.
"Bonya likes to chase this tennis ball that we had, so just giving him this time to spend outside makes all the difference."
And Sarah Miller, who also spent a lot of time caring for Bonya and Elya at Blue Cross Hertfordshire, added it had been a privilege for the team to help those in such a desperate situation.
She said: "We know we've been playing our part in their journey, and the owners and animals have done such a big step in coming from a war zone country, coming over to a completely new country, and all the journey in between, and then staying with us.
"Actually being reunited with their owners, I think it makes the job worthwhile."
Lisa and her family are extremely grateful for Blue Cross's help and the updates we were able to give her throughout her pets' stay in our care.
Lisa added: "The Blue Cross really helped me and thank you very much for that. I am very glad that they were with you and you took care of them, sent me photos and I was convinced that they were doing well. I can see from them that they are safe."
We're delighted that Lisa and her family are safely reunited with their beloved Bonya and Elya, and that despite all they've been through this year, they can now enjoy a little piece of home together.
Blue Cross Ukraine Pet Welfare Fund
Help those affected by the war in Ukraine by donating today.
Donate today
Blue Cross Ukraine Pet Welfare Fund
Help those affected by the war in Ukraine by donating today.
Helping refugee pets arriving in UK
— Page last updated 08/02/2023