Remembering the animals of the First World War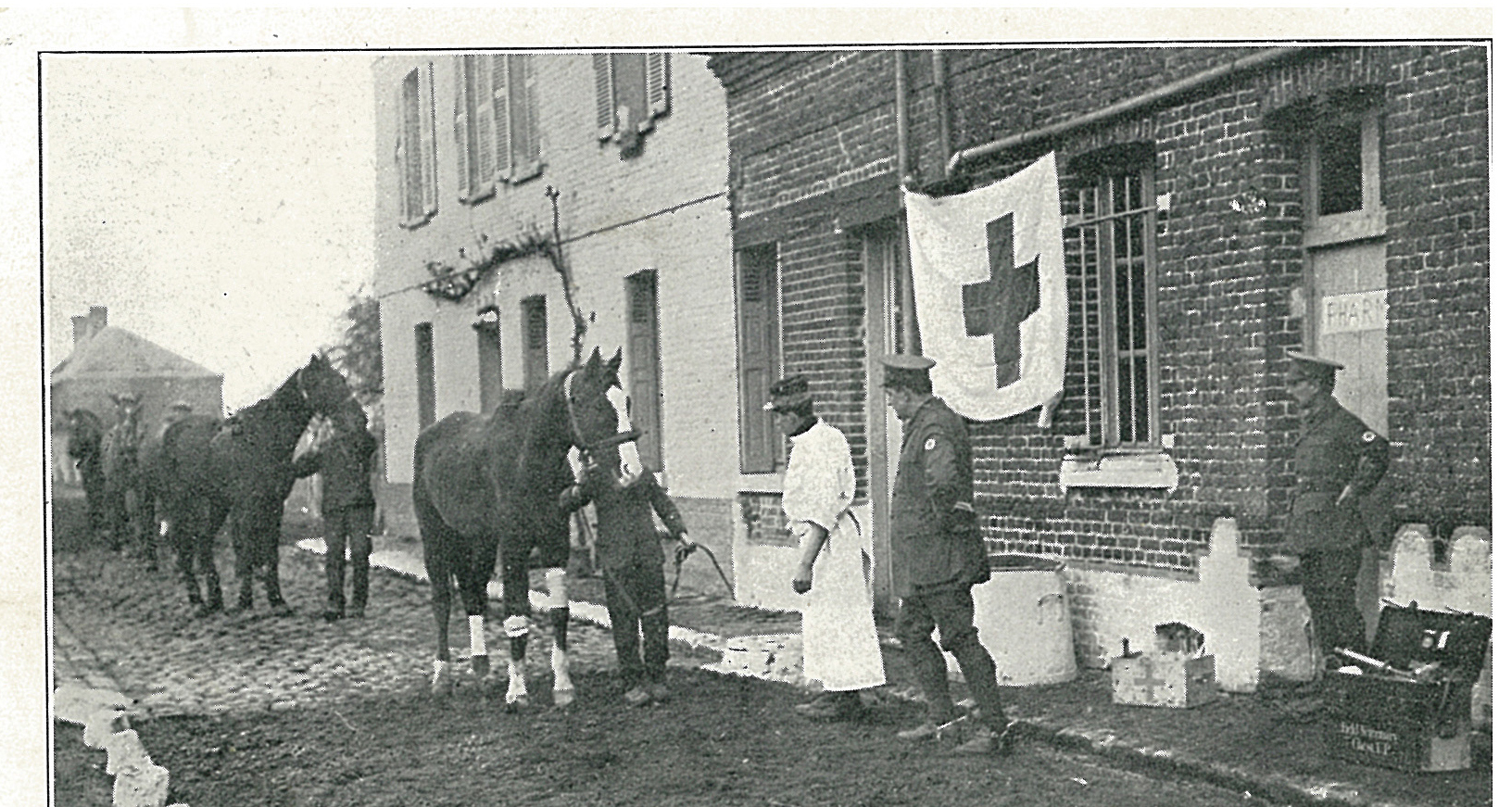 It wasn't just men and boys who answered Britain's call to join the armed forces in her hour of need.
Hundreds of thousands of animals left behind their peaceful, rural homes and made the journey across the English Channel to join their human comrades in the trenches.
Two years before the outbreak of what would become known as the First World War, the Blue Cross Fund had provided vital veterinary care to animals during the Balkan War. At that time, our charity was called Our Dumb Friends League (ODFL) and we named the fund after the flags displaying blue crosses that flew above animal hospitals and ambulances to distinguish help for animal casualties from The Red Cross, which provided aid to wounded soldiers.
 In 1914, we knew our help would be needed once more.
Horses were an essential part of cavalry warfare and soon became needed to haul colossal artillery pieces, ammunitions wagons, machine guns, ration carts and other vital supplies.
Dogs too were vital on the battlefields as they were used to run messages, detect mines, and act as patrol dogs, among many other tasks.
Perhaps slightly less known is the number of pigeons that served, who risked their lives by carrying vital messages over long distances.
In action
When animals are used in warfare, animals are injured in warfare, so we offered our help to the British Army. Despite an official arrangement being kindly turned down because the army had its own veterinary corps, we continued to send ambulances and veterinary chests to over 3,500 British units when supplies were short and hard to come by.
Veterinary parcels included supplies of drugs, bandages, horse salts and dressings, medicines, ointments, clippers, antiseptic, portable forges and items for humanely euthanising horses who were suffering and sadly too wounded to recover.
One ambulance costing £2,000 was sent as far afield as Egypt, after being inspected by the King at Buckingham Palace.
The bravery and selflessness of these animals in fighting alongside the men of their country captured the heart of the nation and the generosity of the British public helped to fund the work of ODFL.
One commanding officer wrote to us in December 1915: "I heartily thank you for the liberal supplies of veterinary stores received this morning, every article was in splendid condition… Believe me your work is fully appreciated by every one who has charge of the poor dumb animals doing their part in this great war."
(Above: video footage shows a Blue Cross animal hospital during the First World War. Copyright British Pathe)
As the war waged on, ODFL realised that while the British Army was relatively well-equipped with sufficient knowledge and supplies to help its horses, our European allies weren't.
Animals have no nationality
Animals have no nationality, and we extended our help to the French and Italian armies, providing animal hospitals with veterinary surgeons to treat injured horses and other animals on the battlefields.
And when the Americans joined the war effort, veterinary supplies were sent to the US Veterinary Corps. In fact, during the four and a half years of war, the Blue Cross Fund established its work in one form or another in almost every zone of its operations.
It's estimated that more than six million horses and mules were involved in the First World War and almost half died of disease or were killed in conflict.
Reports from our men on the battlefields reveal horses suffered from infectious diseases such as glanders, cracked heels and frost bite, as well as being injured by enemy fire or in the course of their duties.
By the end of the First World War, Blue Cross had raised over £170,000 – the equivalent of nearly £6.5 million today - thanks to donations from the British public.
We used the funds to treat over 50,000 sick and injured horses and 18,000 dogs between 1914 and 1918.
After the armistice
After the armistice, we rescued more than 4,000 war horses that were sold abroad as working horse and often mistreated.
We opened quarantine kennels in Shooter's Hill, London, and funded the costs so soldiers could bring back the dogs that had so loyally served them on the battlefields and give them the retirement they deserved in a peaceful Britain.
Ruth Turner is the granddaughter of George Turner, who worked as a driver in the British army, caring for horses during the First World War. George risked his life to help an injured horse on the battlefields of France. Learn about his incredible story.
In honour of the animals of war and the importance of the fund in both world wars, we changed our name to The Blue Cross in the 1950s.
Today, as then, we're devoted to helping sick, injured and abandoned animals, thanks to our generous supporters.
We believe that the sacrifice of the men, women and animals of the First World War should never be forgotten, and we will remember them.
— Page last updated 02/12/2021