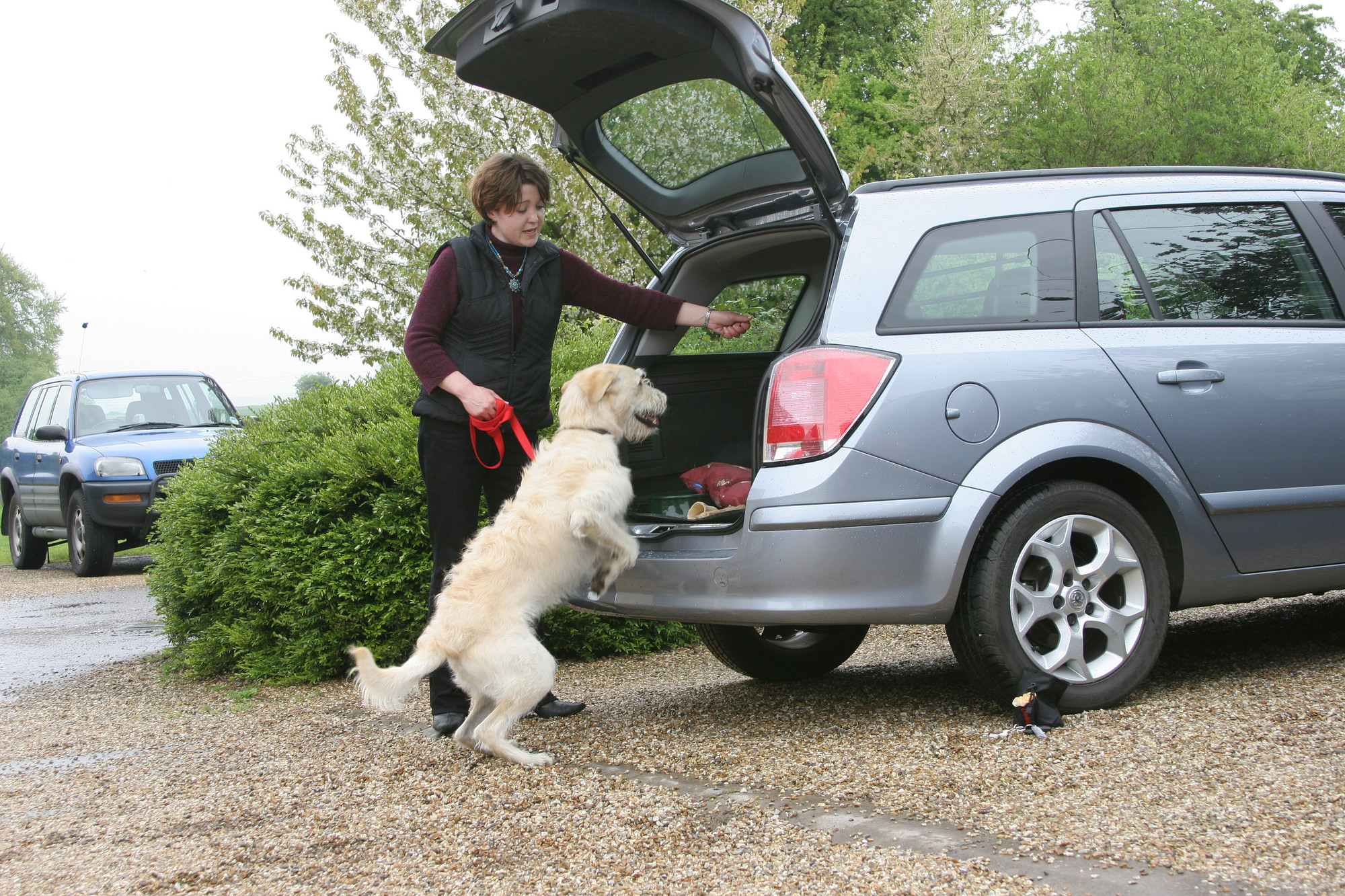 Moving house and travelling with dogs
New situations and experiences can be stressful for the whole family – including your dog. It is important to plan ahead, to ensure your pet stays safe and settles quickly into new surroundings.
Moving house
Moving to a new house can be a stressful time for us and although most dogs cope really well with the changes, some might find it unsettling at first. The following tips should help your dog ease into their new home without too much concern. 
Safety first
The days leading up to and immediately after your move can be stressful for everyone in the household, including your dog. For you, it means disruption while everything is located, packed up or thrown out. For your dog, it usually means their normal routine goes out of the window in addition to the general disruption. All your dog has known and become familiar with, in terms of household objects and smells, changes dramatically and so it's not surprising that some dogs become a bit worried, particularly those who are sensitive to change.
You may want to ask a member of your family or a good friend to look after your dog for the duration of the move – this way you can concentrate on the actual house move without having to worry about how and where your dog is. Once you are settled in your new home, with everything unpacked and order restored, you can then collect your dog and dedicate the time needed to introduce them to their new home. 
If you decide to keep your dog with you on the moving date, here are a few tips that will help:
There is usually a lot of people moving in and out of both houses on actual 'move day', so it's a good idea to put your dog in one room and make any removal people know which room your dog is in (also remember that not everyone will be as fond of your dog as you are!)
If this isn't possible, then you'll have to keep your dog on a lead or in a dog crate, you may need to introduce them to a dog crate prior to this if they haven't been in one before. Make sure they have access to water and keep them occupied with a stuffed kong or chew. Making sure they have been well exercised beforehand will help them settle.  
Feed your dog as normal, but not too close to moving time in case of illness during the journey
It's helpful to have one member of the family who is responsible for your dog on the day of the move. This way, you always have a point of reference and know that the nominated person knows where your dog is. 
On arrival at your new home, ensure your dog is kept secure until one room in the new house is sorted out. Pop some familiar belongings in the room (bed, toys and water) and settle your dog. You'll need to make everyone aware that your dog is in there so they don't accidentally let them out – it's best to shut the door and pop a sign on it. Some dogs may struggle with this, especially in a new place, so a stair gate might be a better option as they will still be able to see and hear you. 
You can then get on with moving everything into and around the house knowing your dog is safe and settled.
Hopefully, you will have familiarised yourself with the areas around your new home where you can exercise your dog – they will probably appreciate a good walk after you've moved the rest of your belongings in, especially if they have been restricted for most of the day.
Helping your dog settle in
Depending on your dog's personality, they may settle in to their new home immediately without any problems, or they may take a little longer to feel at home. Try to keep things as normal as possible for them and stick to your previous routine – this will help reassure your dog that all is well. If you feel your dog is taking longer to adjust than you expected, talk to your vet about pheromone products that may help.
Exploring the new area together
If your dog is used to walking in a variety of places off lead and they have a good recall, then you shouldn't experience any problems on your new walks. If you are unsure at all, it might be a good idea to keep your dog on the lead for the first few days until you feel more comfortable about letting them off in the new area. A long line or an extendable lead is a good option in areas away from roads, as these will give your dog a bit more freedom than a short walking lead.
Make sure your dog's identification details are up to date, including the information on their collar and the microchip details (both required by law). If your dog does get lost then this will help you and your pet be reunited as quickly as possible.
Travelling with your dog
Transport your dog safely – a secure dog crate is often a great option for most people  
If it is not possible or practical to have a crate and your dog has to travel loose, then either secure them on the back seat with a purpose-made seat belt or harness, or behind a fitted dog guard in the space to the rear of the back seat, if in an estate or hatchback. Remember, your dog needs to be able to stand up, sit and lie down in comfort.
Never transport your dog in the boot, loose in the front footwell of the car, or in the removal van
On a long journey it's wise to stop and offer your dog water and a chance to stretch their legs and go to the toilet
If it is a hot day make sure the car is well ventilated and never leave your dog inside a hot car if you stop for a break
If a short stop is unavoidable, always leave the car in the shade with the windows partly open, but be aware how quickly it can heat up if the sun is on it. Don't forget, the sun's position changes throughout the day and what was shade an hour ago may be in full sun by the time you get back - don't leave your dog for any length of time on a hot day.
Ensure your dog is wearing a collar and tag containing the details of your new address and contact numbers
Make sure your dog is healthy before you travel. If your dog is an anxious traveller or gets car sick, seek advice from your vet at the earliest opportunity who will be able to help you plan for the trip.
Feed your dog as far in advance of travel as possible. Alternatively, you may wish to wait until you arrive at your destination.
— Page last updated 26/05/2023