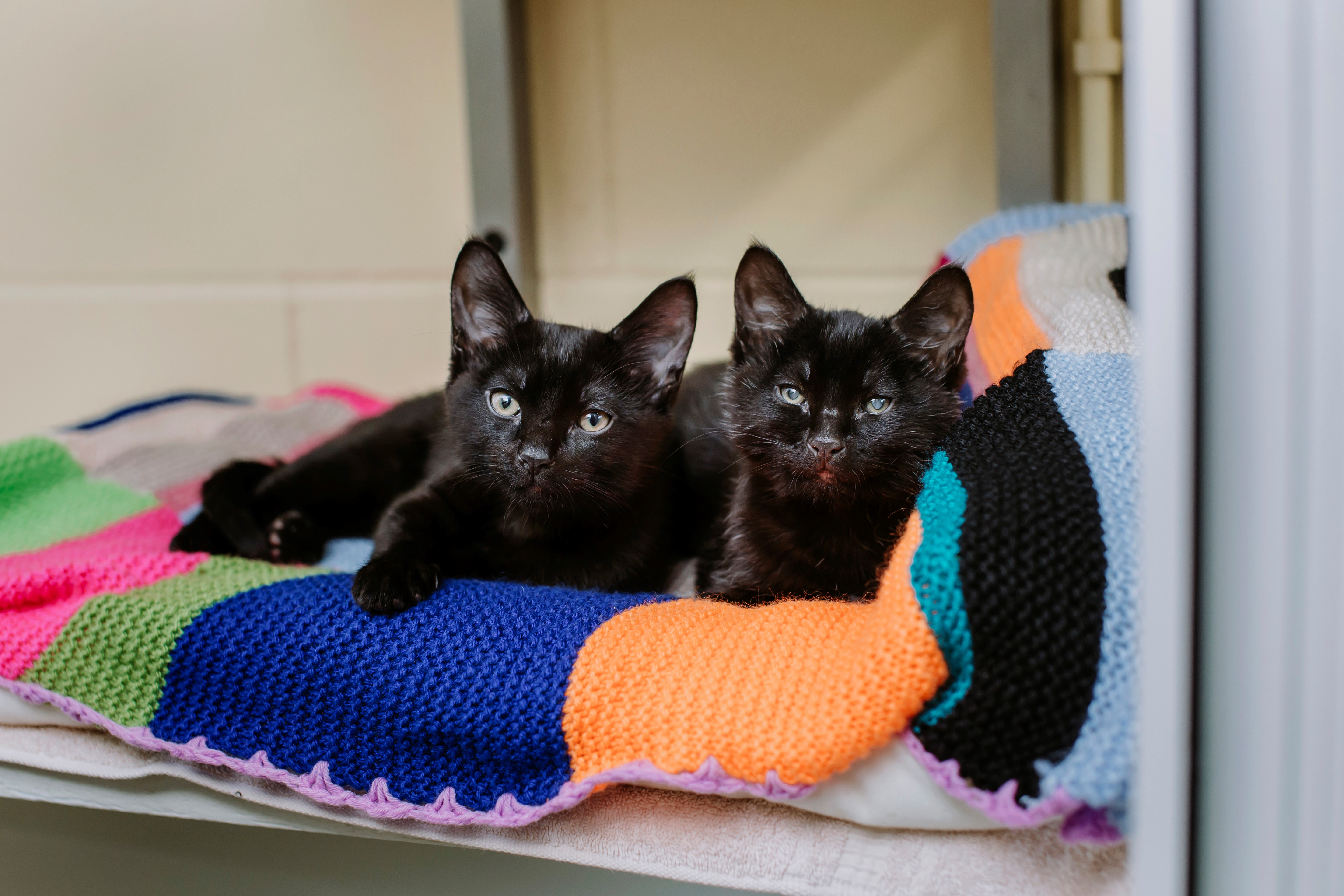 Tiny stray kitten saves sick brother's life
Without his devoted brother by his side, Specks probably wouldn't have made it.
The poorly black kitten was found huddled up with sibling, Dot, in a west London garden, as the pair desperately battled to keep warm in the grip of winter.
As well as being freezing cold, filthy and frightened, the four-month-old brothers were hungry, underweight and covered in fleas. Sadly, Specks was also suffering with health problems which made him even more vulnerable.
Thankfully, a kind member of the public brought the duo to our Hammersmith animal hospital in London just in time, and they were soon transferred to our flagship Victoria site nearby for further vet treatment.
Specks was found to have cataracts covering both eyeballs, leaving him with little to no vision. He was also diagnosed with a nervous system disorder called cerebellar ataxia, which causes loss of balance, shaking and wobbly movements.
Due to this, it's unlikely that Specks would have survived without the support he had from Dot, explained Amanda Rumball, London Welfare Officer for Blue Cross.
"It was lucky that these brothers were found when they were and brought into Blue Cross," she said.
"I don't think Specks would have survived without Dot. He cannot see, and his condition means that he would have been very easy prey. He would have been unaware of dangers around him like traffic, wild animals and cold weather.
"Dot was found huddled up with his brother and I really think he stayed with Specks because he knew how much he needed him. He could have left him, but he never did."
"We don't know how long they were there, but it's so heart-warming that he stayed with his brother," added Amanda.
After their ordeal, we made sure Dot and Specks were warm, comfy and well fed. We also gave them the preventative treatment, such as worming and flea medication, they needed.
Amanda said: "They were both frightened initially but with some warmth, food, toys and love they were both purring away by the next morning and happy to be with us.
"They were so sweet to watch as Dot would encourage Specks to play and they both loved receiving TLC – they were little purr monsters."
The brothers spent four days at Victoria recovering, but once they were on the mend, they were taken to our Lewknor rehoming centre to start their search for a loving home.
And, due to their incredible bond, Blue Cross is desperate to rehome them together.
Specks will need plenty of care and support from his new owner, but Blue Cross is confident that he can live a full and happy life despite his disabilities and tough start.
Chief Vet, Mark Bossley, said: "His prognosis is fairly good at this stage. It's unlikely to change and it's about him learning to live with the condition.
"The visual problems he has are likely to be more debilitating, so a happy future for him will be about the new owner being aware of his needs and having him as more of a house cat or giving him supervision when outside in the garden.
"Objects like food bowls and litter trays, as well as furniture, will also need to be kept in the same place in the home so that Specks can find his way around more easily."
Very sadly, Dot has also now started to show signs of cerebellar ataxia, which establishes itself as kittens develop. However, it's not thought that Dot will suffer with the condition, if he does have it, to the same extent as Specks.
Amanda added: "They really are a fab little duo and have an amazing sibling bond. I really hope that we are able to keep them together, as Specks needs his brother so much. What a lovely pair they are – whoever rehomes them is so lucky."
Lewknor Centre Manager, Jenna Martyn, said: "I am pleased to say that both Dot and Specks are settling in really well at Lewknor, the team can see how bonded they are and how Specks relies on Dot for support. They both enjoy being around people but definitely prefer to play together! Even though Specks is a bit wobbly and has limitation in his eyesight, they love racing up and down the corridor."
Dot and Specks are now ready and waiting to find a home together. If you are interested in giving them the second chance they need, visit their rehoming page.