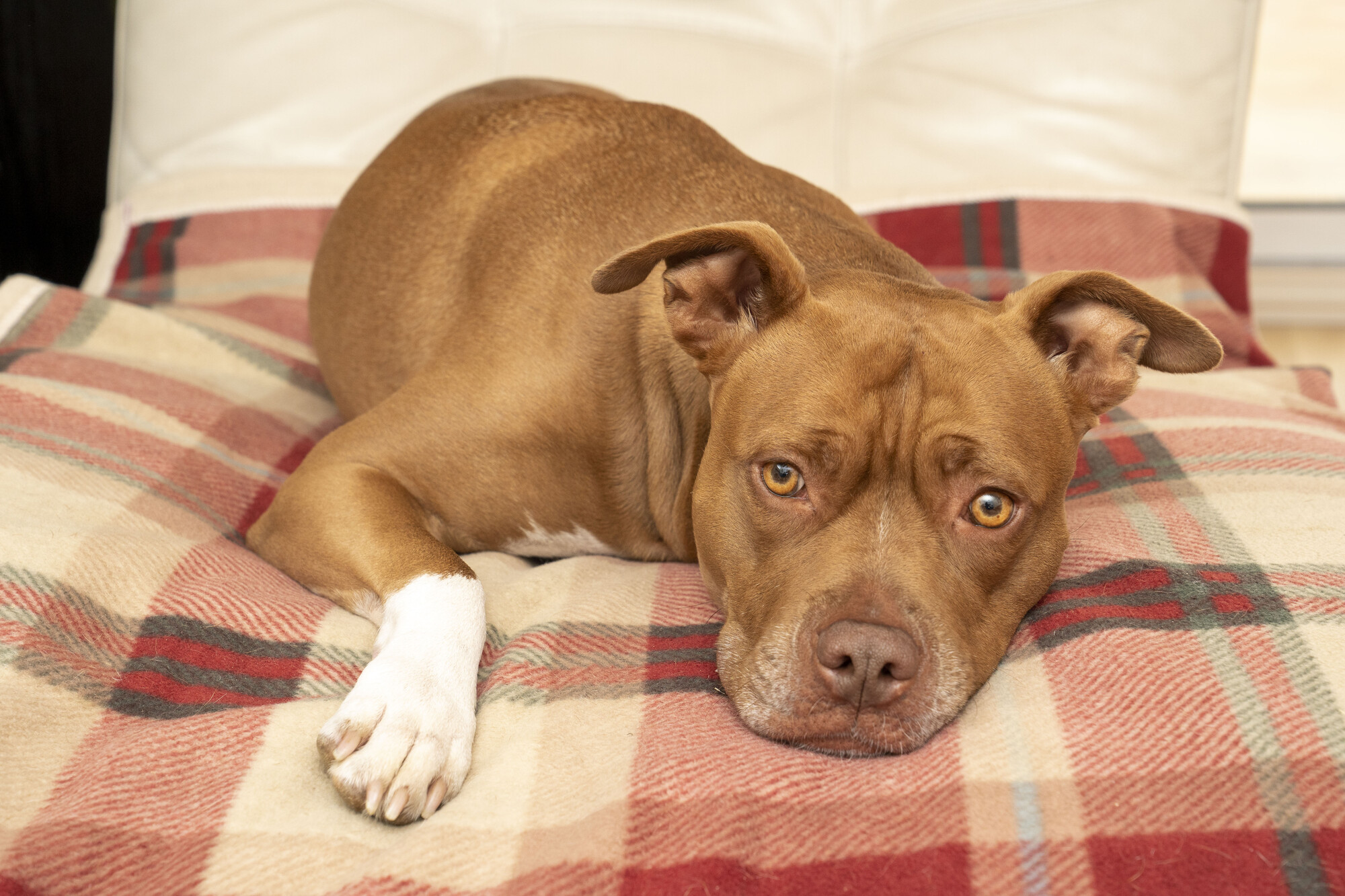 Our campaign to end breed specific legislation (BSL)
Every year thousands of dogs are euthanised because of the way they look thanks to section one of the Dangerous Dogs Act.
We know that the current law is ineffective and fails dogs like Duncan and Lola and we're campaigning to change it. But we need pet lovers like you to help.
What does the current law say?
Section one of the Dangerous Dogs Act 1991 now bans five types of breed based on their physical appearance, rather than whether the dog has behaved dangerously. 
The word 'type' is important because it means that it isn't just pure breeds that are illegal to own, sell, breed, give away or abandon, but crossbreeds of these or any dog which fits the physical description of these breeds as well. So, a dog can be seized and killed based on their head and body measurements alone.
What breeds are banned?
It's illegal to own, sell, breed, give away or abandon: 
pitbull terriers 
Japanese tosas 
dogo Argentinos, 
fila Brasilerios
American XL bullies (added in 2023)  
crossbreeds of these breeds
any dog which fits the physical description of these breeds
Lola's life affected forever
Lola was taken by officers and kept for two nights because they deemed the affectionate American bulldog cross staffie a risk after her measurements categorised her to be a pit bull terrier.
Her owner, Anita, was left desperately trying to find out where Lola was and what was happening to her. She was then forced to plead guilty in court to owning a banned dog. 
Despite the court ruling Lola was no risk to the public, the law still meant she received a sentence of lifelong restrictions, including wearing a muzzle at all times in public, even if she's travelling inside a car.
Lola was so traumatised by her two days in kennels that she had stopped eating and began urinating around the house once she was returned home – something she had never done before. 
Duncan the gentle giant
Duncan was brought to us as an injured stray. Unfortunately, the Status Dogs Unit (SDU) confirmed he was of type and would have to be euthanised after serving his stray days.
Our team who looked after Duncan described him as a gentle giant who was very well behaved. He knew basic commands and, if he been another type of dog, would had made a great companion to someone. The law meant Duncan was denied that chance. 
How you can help
Spread the message
With your help we can combat misinformation about 'dangerous breeds' and make sure the law is effective at protecting the public. 
Follow us on Facebook, Twitter or Instagram and share our posts on breed specific legislation. You can also search #endBSL 
Update on the ban on XL bullies
On Friday 15 September, the Prime Minister announced that American bully XL types will be added to dog breed types banned in the UK by the end of 2023. While XL bullies have now been added to the breed types listed under the Dangerous Dogs Act, we have serious concerns about the ban and the way it's been implemented and the enormous impact this will have on both owners and overstretched animal welfare professionals.
You can write to your MP to express these concerns today in a few easy steps.
Update on Lola's petition
We supported Lola's owner, Anita, as she launched her own petition calling on the government to allow dogs who had been found to be an illegal type but assessed as posing no risk to the public, to live without the restrictions currently imposed on them.
Anita's petition has now closed but you can read the transcript of the debate that was held following the petition.
Following the government's response to the debate, the Petitions Committee wrote to the the minister with responsibility for animal welfare, stating they did not feel several questions posed by the debate had been fully answered.
The Minister for Animal Welfare, Lord Goldsmith, responded to the Petitions Committee, outlining the government's latest position on reforming breed specific legislation. Read the minister's response.
Why the law needs to change
The law unfairly punishes well-behaved dogs and focuses too much on what a dog looks like. It has torn much-loved pets away from their families and has failed to protect the public from irresponsible dog owners. 
Public safety
This legislation has not been effective at preventing dog attacks. In fact, between March 2005 and February 2015, hospital admissions for injuries caused by dogs increased by 76 per cent. 
Stray dogs
As a pet charity with animal hospitals and rehoming centres around the country, we often take in stray dogs. When no owner comes forward, we find stray dogs loving new families – but dogs who look like a banned breed are denied this happy ever after. We're not allowed to rehome these dogs, even if they have the temperament and behaviour to become sociable pets and pose no danger to society.  
The impact on animal welfare professionals
There's no evidence to suggest that banned breeds pose any additional threat to the public than legal types of dog. But the law asks vets to euthanise healthy dogs that have never caused anyone any harm.  
Asking vets, vet nurses, behaviourists and others to go against their professional judgement to enforce a law which kills healthy animals is heartbreaking. 
Owned dogs
Owners of well-behaved family dogs who look like a banned breed must prove they are not a danger to the public. But the process is often stressful for these pets, who must often stay in kennels while an assessment is done. 
If they prove they pose no threat, they must still follow harsh restrictions such as not being allowed off lead and wearing a muzzle in public places or while travelling in a car. These restrictions are in place for the rest of the dog's life.
More heart-breaking stories
Kane the 'big softy'
Kane came into one of our hospitals and was signed over to us by his owner. The SDU were called and confirmed that Kane was of type and would need to be euthanized.  
Kane was described by staff as a big softy who behaved like an overgrown puppy; he loved being around people and was very good with other dogs.  
Our hands were tied because of the law and Kane was put to sleep as we were not able to send him on to one of our rehoming centres. 
Poor Dobby had been used as a 'breeding machine'
Poor Dobby had been used as a breeding machine and once she was no longer any use, she was abandoned.  
Dobby stayed with us for her seven stray days and we made sure she got the care and treatment she needed.  
Throughout her week with us she learned to play, enjoy head rubs and put on weight. The SDU confirmed Dobby was an illegal type and her fate was sealed. 
Each of these dogs had a life which they deserved to enjoy in a happy home with a loving family. Instead, they died simply because of the way they looked. This injustice must end.